Ride a Real Biplane
Fly with Family and Friends in the Travel Air E-4000
After telling a few barnstorming tales and history of the airplane, donning helmet, goggles, "Waldo" will take the Travel Air biplane into the sky for a 20 minute local scenic flight over the lush fields and orange groves in Central Florida's lake country.
Reservations accepted.
$99 (plus tax) per passenger (two passengers on board) 
$149 (plus tax) per passenger (single rider)
Ultimate Flying Adventure in the Boeing Stearman PT-17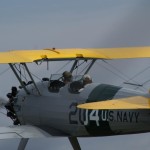 This is the perfect aircraft to transport you back in time as you take the controls and actually fly the aircraft on a 30-minute flight experience. With dual controls inboth cockpits, pilots andnon-pilots alike can relive the excitement and challenge of flying this famous WWII trainer.
Reservations Suggested. No Flying Experience Necessary!
$229.00 (plus tax) per passenger
For more information on these unique pieces of aviation history, please visit Waldo Wright's website at www.waldowrights.com or call 863-873-1339.