Ride a Real Biplane
Biplane rides are typically offered at Fantasy of Flight during museum hours, November – April. But at this time are not operating due to COVID.
For more information on these unique pieces of aviation history or to schedule your flying experience, please visit Waldo Wright's website at www.waldowrights.com or call 863-873-1339.
Fly with Family and Friends in the Travel Air E-4000
After telling a few barnstorming tales and history of the airplane, donning helmet, goggles, "Waldo" will take the Travel Air biplane into the sky for a 20 minute local scenic flight over the lush fields and orange groves in Central Florida's lake country.
Reservations accepted.
$99 (plus tax) per passenger (two passengers on board) 
$149 (plus tax) per passenger (single rider)
Ultimate Flying Adventure in the Boeing Stearman PT-17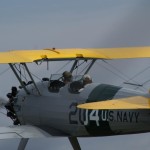 This is the perfect aircraft to transport you back in time as you take the controls and actually fly the aircraft on a 30-minute flight experience. With dual controls in both cockpits, pilots and non-pilots alike can relive the excitement and challenge of flying this famous WWII trainer.
Reservations Suggested. No Flying Experience Necessary!
$229.00 (plus tax) per passenger