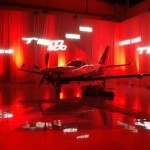 We're ending this week with a Flashback Friday from March 2014 when we welcomed Daher-Socata as they unveiled their brand new TBM900.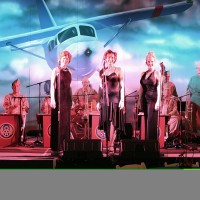 A red carpet arrival awaited guests outside of the North Hangar complete with Vintage Flight Attendants and Swing Dancers (Blade Agency) as they arrived by motorcoach. Greeted with butler passed champagne and sumptuous hors d'oeuvres including Smoked Chicken & Caramelized Onion Cornets with red onion creme fraiche, Bacon-Wrapped Potato Tots with sour cream and chive, Grilled Cheese Sliders on mini country toasts with brie, fig jam and rosemary butter, and Braised Short Ribs on Corn Cakes with demi glace, fried shallots, chives and sour cream from Puff 'n Stuff, guests took to the dance floor moving to the music of the 8th Army Air Corp Orchestra and the Fantasy Angels an Andrews Sisters Tribute.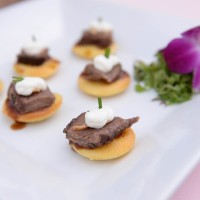 Post cocktail hour, attendees savored the exquisite food stations including Pan Seared Mahi Mahi with lemon basil risotto, blood orange reduction, and lemon gremolata, Rose Chicken Towers with smoked raspberry and chipotle roulade served on grilled corn with peach and poblano salad,  Bastille Salad offering grilled hearts of romaine and a selection of toppings including shaved cantaloupe, julienne prosciutto, grilled chicken, marinated artichoke hears, diced tomato, pickled red onion and a red wine vinaigrette and a tasty Specialty Pasta Station featuring Caprese Orecchiette, Cavatelli in bleu cheese cream with caramelized onions, and Gemelli Chardonnay with spring peas, mushrooms, and roasted tomatoes in a Chardonnay cream sauce.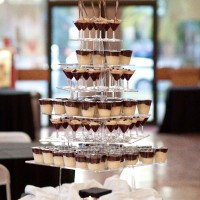 As guests dined on their desserts of raspberry chocolate noir tortes, chocolate-dipped strawberries, macaroon lollipops coated with crunchy ground pistachios and the chef's selection of petite luxuries presented in parfait style glassware they were once again entertained by the 8th Army Air Corp Orchestra, Fantasy Angels, and Swing Dancing Couples all leading up to the main event. After a brief introduction from the CEO, the new TBM900 was unveiled via a Kabuki Drop staged by American Audio Visual followed by a fly-over including (3) brand new TBM900s being delivered to their new owners and landing right on the Fantasy of Flight legendary grass runway. Guests were able to spend the rest of the evening enjoying the dance floor, admiring the fastest single engine turbo prop aircraft on the market, and of course enjoying a few cocktails in the process.
Here is a clip highlighting this flash from the past!
Looking to launch your next product at Fantasy of Flight?