Who doesn't love the 80's? Big hair, neon colors, music videos, the Brat Pack, Michael Jackson, and Madonna…. what's not to love! Pull that Members Only jacket out from the back of your closet and create an event that will be as big on fun as Alexis Carrington's shoulder pads!
Welcome attendees with a red carpet arrival accented with Rubix Cube towers and look-a-likes of famous 80's icons. We all know that "Video Killed The Radio Star" so a video DJ can make a great addition to get guests out on the dance floor. Prefer a live band? 80's cover bands can definitely provide great energy coupled with large projection screens flashing scenes from iconic 80's music videos and films.
Vibrant colors and great lighting including LED cocktail tables, LED dance floor, and comfortable lounge furniture accented with lighted cubes can turn your 80's party into something straight out of a brat pack classic!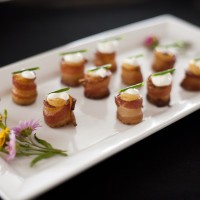 Remember to include your theme in food and beverage selections as well. Try some new twists on nostalgic favorites including 7-Layer Dip served in individual parfait glasses, Chicken in the Egg (fried chicken deviled eggs), bacon wrapped potato tots, buffalo chicken lollipop wings. and a refreshing Sea Breeze or Cape Codder specialty cocktail can also incorporate your 80's theme.
Want to bring your themed event to Fantasy of Flight?