Take Your Event To
A Higher Plane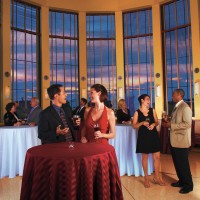 Celebrate success, inspire creativity or launch a new concept in a venue as unique as your company. With over 100,000 square feet of combined meeting and event space, Fantasy of Flight can accommodate the most intimate party all the way up to an unforgettable large-scale affair.
Located in Central Florida close to all the attractions, Fantasy of Flight has historic aircraft, Art Deco styling and interactive immersive environments to inspire your group to conquer new horizons.
Take Your Corporate Holiday Party Planning to New Heights
If you're looking for a space to host your company's next holiday party, look no further. With memorable entertainment ranging from pyrotechnic airshows to hot air balloons, your next corporate holiday party at Fantasy of Flight is sure to be the one they talk about for years to come.
View Holiday Packages: Holiday Celebration Packages
Gain New Altitude With A New Product Launch
There's no better place for your new product to take off than Fantasy of Flight. With 95,000 square feet of outdoor space with a concrete foundation, no project or product is too big. For indoor event spaces in Orlando we've also got you covered: we've got more than 100,000 in customizable space that can go from industrial chic to old Hollywood glamor.
Past Sample: New Product Launch
Give Wings to Your Convention Kickoff Party or Gala
Our vintage Art Deco rotunda is a great place to feel at home in formal attire either celebrating the beginning or end of a convention or retreat.
Past Sample Event: Hall of Fame Induction Ceremony
Executive Anniversary or Retirement Events for Your Copilots
Relationships are worth celebrating. And the greatest ones in our lives deserve the best. Whether you're celebrating an anniversary with a vital partnership or celebrating the final chapter in a great career, Fantasy of Flight is ready to roll out the red carpet. With spaces from intimate to grand available, we can help you plan a night to remember.
Past Event Sample: 10th Anniversary Celebration
Let Your Fundraising Event or Benefit Party Soar
With 100,000 square feet of space, we can accommodate even the largest of outdoor events to raise money for a cause.
Past Event Sample: Coming Soon — Bike MS: The Citrus Tour 2017
Planning a Corporate Event at Fantasy of Flight
Fantasy of Flight offers a dedicated staff and full-service planning assistance — but that doesn't mean our events aren't fully customizable.
We can help you manage the event top to bottom, or we can let you take the lead while providing all the support you'll need to make your vision a reality.
 Past Clients Include:
Daher-Socata
National Football League
Nike
IronPlanet
Breitling
USA Waterski
OSI Restaurant Partners
National Multiple Sclerosis Society
Jones Lang LaSalle
Hyundai
Mercedes
Axiall Corporation
Landstar System, Inc.
Vivint
Pearson Education
World Cup of Paintball
Corporate Event Food Policy
We work exclusively with our award-winning caterer Puff 'n Stuff – serving the Central Florida market. All food and beverage arrangements can be made through your sales manager.
Entertainment Options at Fantasy of Flight Events
A party without entertainment is just dinner. From pyrotechnic air shows to live Cirque-style performers, we will help you create one-of-a-kind experiences for your attendees.
Unforgettable Decor for an Unforgettable Event
With multiple spaces of varying sizes, we can turn an air hangar into a nightclub or a banquet hall into a lavish oasis. But if all you want is small scale staging, we can do that too in an already beautiful Art Deco facility.
Interested in learning more about hosting an event at Fantasy of Flight? Visit our planning page or get in touch today.
Corporate Events and Meetings