For Fantasy of Flight founder Kermit Weeks, the opening of his aviation-themed attraction has been a natural extension of a lifelong, unbounded passion for aviation and aircraft.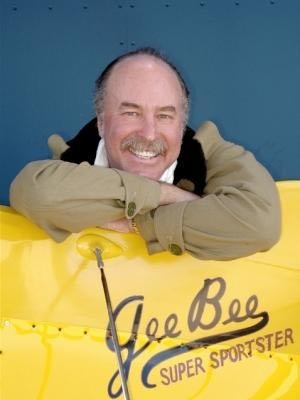 Weeks has been involved in aviation since his childhood and, throughout his life, has also maintained a fascination with the worlds around us we don't see. His enthusiasm for furthering public interest in aviation has never stopped growing. A skilled aerobatics competitor and aircraft designer, Weeks has earned acclaim both for his accomplishments in the air as an aviator, and on the ground for his technical ability to build aircraft and his promotion of aviation and vintage aircraft restoration.
Born in Salt Lake City, Utah, Kermit Weeks grew up in Miami, Florida. His childhood interest in mechanical design and construction evidenced itself early. While still a teenager, Kermit had already taken to the skies and learned to fly. At age 17, while still in high school, he began construction of his first home-built aircraft—an airplane he completed and flew four years later. In 1973, at age 20, Weeks began taking to the air in aerobatic flying competitions while pursuing an aeronautical engineering degree at Miami-Dade Junior College, the University of Florida, and Purdue University. By 1977, Kermit had built the "Weeks Special," an aerobatic aircraft of his own design, and he qualified for the United States Aerobatics Team at age 24. In 1978, he was runner-up among 61 competitors worldwide, earning three Silver medals and one Bronze medal in the World Aerobatics Championships staged in Czechoslovakia. Over the span of a dozen years, he placed in the top three in the world five times and won a total of 20 medals in World Aerobatics Championship competition. He has twice won the United States National Aerobatics Championship and has won several Invitational Masters Championships in different worldwide competitions.
During the late 1970s, Kermit's aviation interests expanded to include the acquisition, restoration, and preservation of antique aircraft. In 1985, he began operating the Weeks Air Museum in Miami, a non-profit facility that housed much of his private collection and other antique aircraft owned by the museum. As his personal collection expanded, Weeks planned for development of a larger, more comprehensive facility in which to showcase and share his aircraft collection. In the mid-'80s he began acquiring a 300-acre site near Polk City, Florida, 20 miles southwest of Walt Disney World, for an aviation-themed attraction called Fantasy of Flight. In 1992, as development plans finalized for Fantasy of Flight, Hurricane Andrew struck the Miami area, virtually destroying the Weeks Air Museum facility (it was repaired and reopened in 1994) and seriously damaging most of the vintage aircraft within it. Some of Weeks' collection, which was damaged by the hurricane underwent careful repair and restoration, and is now displayed at Fantasy of Flight.
Fantasy of Flight opened its doors in 1995, beginning another colorful chapter in Weeks' career devoted to furthering aviation. The facility's beautiful "Golden Age" hangars now showcase the world's largest privately held vintage aircraft collection, representing romantic and thrilling eras from earliest flight to the beginnings of the jet age. What sets Fantasy of Flight apart from other collections is that Kermit doesn't collect anything he doesn't intend to fly. Most of the display aircraft are fully restored to airworthiness. As an aviation-themed attraction complete with immersive exhibits and delights for the whole family, Fantasy of Flight ushers its visitors through aviation's storied past while providing guests ample moments of wonder and excitement. The goal is clear: according to Weeks, Fantasy of Flight must "Light that Spark Within!"
However, Weeks has crafted Fantasy of Flight to be much more than simply an airplane museum, and his reach extends far beyond the community of aviation enthusiasts. His experiences as an aviator and collector combine with his passions as a student of metaphysics to create a unique and powerful vision for Fantasy of Flight's guests: to explore "inner" flight—their own potential and consciousness—as well "outer" flight. In an article recently published in Plane and Pilot, Weeks observes, "Everyone can relate to reaching for the sky and reaching for the stars, as well as soaring in our imagination and flying in our dreams!" Weeks encourages each guest to look up into a seemingly never-ending sky, and ask himself, "What might lie beyond my current perspective of reality… and what limitations are keeping me from climbing even higher?"
On May 26, 2000, Kermit Weeks wed Teresa Blazina during a private ceremony in Sedona, Arizona, where they return every year by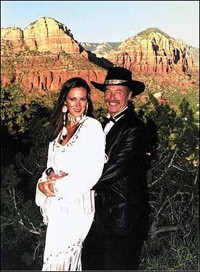 themselves to repeat the ceremony. Kermit's dream for Fantasy of Flight has inspired him to author two children's books All of Life is a School and The Spirit of Lindy. He is currently working on several other books, including an extension of his Gee Bee children's series featuring delightful characters based on great "Golden Age" racing airplanes and another series of children's book based on featured creatures, one of whom will become the Fantasy of Flight park Icon character. In addition to book publishing, Kermit has created an audio CD of stirring stories inspired by his aircraft collection, titled We are the Past, and an entertaining video that goes "behind the scenes" at Fantasy of Flight, titled The Wizard of Orlampa, which has been featured on PBS. His growing interest in the dynamics of business and organizational leadership has led him to become a Covey facilitator for Seven Habits, Focus, Execution, and Leadership. He has also attended all five Disney Institute programs offered to the public, was an eight year member of TEC, and has attended many spiritual and metaphysical retreats. Weeks enjoys writing songs and plays several musical instruments including the guitar and piano. To learn of his latest adventures, check out his blog or his popular Facebook page. He also regularly adds videos on his YouTube channel.
In addition to the many awards he received as a champion aerobatic pilot, Kermit Weeks' recognitions include the following:
EAA member since he was 16 years old and has been on the EAA Board of Directors since 1997
Inducted into the EAA Warbird Hall of Fame in 2005
Recognized as a "Living Legend of Aviation" in 2006
Inducted into the Florida Aviation Hall of Fame in 2008
Won a Bronze Medal in the 2009 Independent Publisher Book Awards for All of Life is a School
Awarded the Freedom of Flight Award by Bob Hoover at the Living Legends of Aviation Awards banquet in Beverly Hills in 2010
Received a "Lifetime Acrobatics Achievement Award" (for Extreme Sports) from the World Acrobatic Society in 2010
Member of the Governing Board of Directors of the Charles A. and Anne Morrow Lindbergh Foundation since 2010
Board member of the Tony Jannus Distinguished Aviation Society since 2010
Awarded the Lloyd P. Nolen Lifetime Achievement in Aviation Award by the Wings Over Houston Air Show in 2012
Won a Pinnacle Book Publishing Award in 2012 for his second children's book The Spirit of Lindy