Most people think of "The Great Gatsby" when they think of an Art Deco styled event. It makes sense, as it was set in the roaring twenties and after the success of the modern film adaptation became easily recognizable. It is often designed using colors of black and gold/silver, ostrich plume feathered centerpieces, beading or pearls, and signage with the iconic "Gatsby" font, We may again see a rise in the popularity of Art Deco styled events with the most recent cinematic release of "J.K. Rowling's Wizarding World Fantastic Beasts and Where to Find Them" set in the 1920's as well, so how can you incorporate this style into your event design without it feeling tired or overdone?

Art Deco is a combination of many influences including Art Moderne and Art Nouveau.  Common in the first half of the 20th century and most popular between World War I (1914 – 1918) and World War II (1939 – 1945) drawing inspiration from the future and modern ideas of progress including industrialization, Art Deco as a style is often associated with opulence and grandeur. There are typical features you will find in art, design and architecture that are characteristic of the Art Deco era including abstract formations, geometric patterns and symmetrical structure. That being said, events can be designed within the Art Deco parameters associated with lavishness and splendor but with a modern twist.
Color And Texture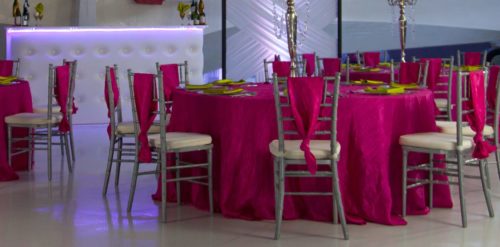 While typical colors used during the Art Deco period were muted pastels with metallic undertones you can still use the Art Deco inspiration when dressing your table. Try making luxurious fabric selections in surprising and bold contrasting colors with lots of texture. Not sure which colors are complementary? Use an online tool such as this Color Wheel to help you decide.

Alternatively you can also choose a monochromatic linen selection instead focusing attention on the fabric's texture and detailed design while providing contrast with your centerpiece, seating choices, decor, or lighting.
Interesting Seating & Decor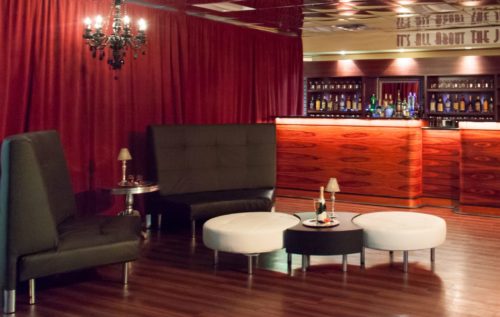 Play off Art Deco's love of geometric shapes by utilizing unique seating such as the Acrylic "Ghost" Chair which is reminiscent of an Art Deco Salon Chair or curved banquettes and ottomans which provide visual interest in your event design. Soft seating in contrasting colors is a great way to give a nod to the Art Deco aesthetic.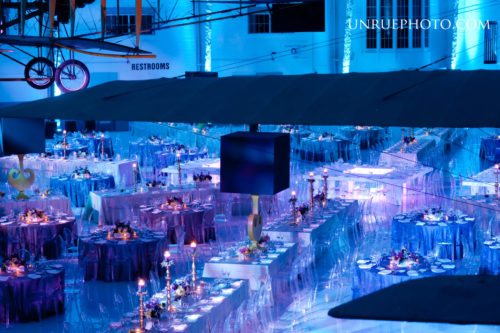 In addition, bring in unique décor items that give the illusion of extravagance including chandeliers, rich inlaid wood bar surrounds, substantial lighting, and towering centerpieces with streamlined silhouettes. Try mixing up your table configurations using rectangular, square, and round tables to create symmetrical designs and using varying linens to set each style of table apart.
Food Presentation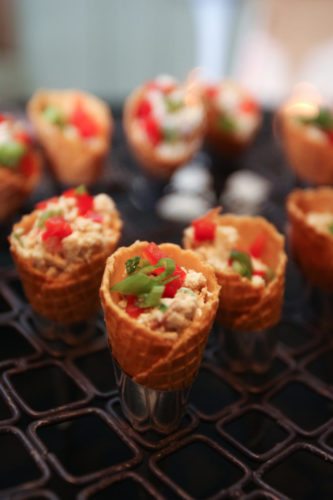 Food presentation is a great way to subtly add some Art Deco styling. Include interesting serving vessels and food compositions. Serving foods popular during the 1920's and 1930's to your menu is also a great way to bring Art Deco extravagance to your event.  An Ice Display featuring Oysters and Shrimp Cocktail, fresh fruit displays stacked and presented in well-formed ways, or an Olive Bar featuring a variety of olives stuffed with goat cheese, Roquefort cheese, pimentos etc are great selections for a cocktail reception. Serving a plated dinner? Try starting with a Caesar Salad, followed by a traditional rack of lamb or filet with mushroom bordelaise served with Potatoes au Gratin and braised Brussel Sprouts, finish with a citrus inspired dessert such as a mini ricotta, orange, and Amaretto Italian cheesecake and a French lemon curd tower.
Venue Selection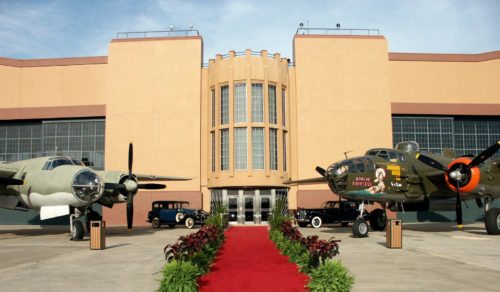 Choosing a venue with Art Deco details will certainly lend itself to bringing in Art Deco elements without feeling kitschy. Look for a venue that uses Art Deco details in its exterior architecture, interior fixtures, flooring, and color palette, Complement these details deftly using some the ideas above to create an event design that is Art Deco inspired without having to create a "themed" event.