For First Time, Visitors Get Thrilling Look at Treasure Trove of Aviation Artifacts and Even More Legendary Aircraft as Fantasy of Flight Unveils Phase II of "Golden Hill"
Aviation Attraction Reveals Additional 20,000 Square Feet of Planes, Parts and Historical "Nuggets" Previously Off Limits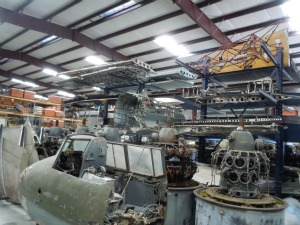 POLK CITY, Fla. (March 11, 2013) – Everyone likes to go behind the scenes and get a glimpse of what happens "behind the curtain"… Now, at Fantasy of Flight, the curtains have been thrown open and guests have been invited to see what was previously off limits – an additional 20,000 additional square feet filled with even more rare and vintage aircraft, aircraft parts and flight artifacts – a veritable gold mine of aviation history. This treasure trove of valuable historical nuggets is Phase II of the aptly named "Golden Hill," a nod to Silver Hill, the nickname for The Paul E. Garber Preservation, Restoration, and Storage Facility of the Smithsonian Institution's National Air and Space Museum in Suitland, Md.
Phase I of Golden Hill, approximately 20,000 square feet, was built specifically for public viewing and opened in the summer of 2012 with such a tremendous guest response that Fantasy of Flight decided to open up its entire storage facility in January 2013, sprucing up its existing facility to welcome guests.
Among the residents of Golden Hill Phase II:
Awesome Amphibians: PBY Catalina and Grumman Duck
Carrier-based Conquerors: Fairey Swordfish and Grumman Hellcat
The world's earliest jets: Gloster Meteor and DeHavilland Vampire
Heroes of the Soviet: TU-2, Lavochkin La-11, and Antonov An-2
War Changers: Mitsubishi Zero and Lockheed P-38 Lightning
The legendary CalTech Wind Tunnel used to test innovative technology ranging from the first P-51 to the Venus Probe.
Sikorsky S-55 Helicopter and much, much more
This restricted area is accessible only by escort. Guests are loaded aboard the vintage, open-air "Orlampa Express" trolley where they can enjoy views of the attraction, the planes on display on the tarmac and daily flights of vintage aircraft and finally, Golden Hill. The new exhibit is included in admission to Fantasy of Flight and joins other recent additions including the Wing WalkAir Ropes Course & Zip Line, and the attraction's robust calendar of special events, including the 2013 Legends & Legacies Symposium Series.
Golden Hill springs from the vision of Fantasy of Flight founder and creator, Kermit Weeks, an international aerobatics champion and aircraft designer whose mission is to inspire his visitors to pursue their dreams, whatever they may be, through the inspirational message of flight. When asked to pinpoint his favorite artifact at Golden Hill, he said, "I would have to answer that the same way I do when people ask me my favorite airplane, which is, whichever one I'm flying at the time! How can you have a favorite when they're like children – you have to love them all!"
Weeks acquired his first collectible airplane in 1979 and has been collecting ever since. He searches the globe for vintage planes as well as parts and components that might be used to bring aircraft back to original condition. For example, during World War II, the piston engines of the 1949 EKW C-36, a single-engine multi-purpose combat aircraft, were replaced by turbines when the military ran out of the original engines. Weeks has been able to locate a Hispano-Suiza 12-Y engine and radiator to restore the plane to its original WWII configuration. Some planes may not look very glamorous to display, but boast amazing stories, such as the Soviet-designed 1954 Antonov An-2, the world's biggest single-engine production biplane used to haul heavy cargo. Signage at display area, dubbed a "Golden Hill Nugget" reads, "Its stall speed is 30 mph, which means the plane will fly backwards at 5 mph with a 35 mph headwind – truly a sight to see!"
Finding, acquiring and deciding which artifacts to purchase have not always been easy, Weeks recalled. "Since I've had a fascination with airplanes, I've had the opportunity to pick and choose over the years and acquired things for reasonable prices. There have been a few that have eluded me because of price at the time. For the same amount of money I could purchase several other historic aircraft for one I might have passed on."
The aviation buff already has plans in the works for Phase III of Golden Hill.
The compelling and historically significant Fifth Annual Legends & Legacies Symposium Series brings to life the experiences of some of America's most courageous aviators through permanent and semi-permanent exhibits, real aircraft, and most importantly, their own personal stories and interactions with guests. All new programs this year take an in-depth look at World War I and the Cold War as well as saluting veterans of every era. The five remaining topics scheduled for 2013 include: "The First World War," April 6; "D-Day: Normandy & Beyond," May 3-4; "Espionage: The Cold War," Oct. 4-5 and "Veteran's Day Salute: A Celebration of Service," Nov. 9-10.
Symposium events are included in the price of Fantasy of Flight general admission and are free for annual pass holders. General admission is $29.95 for adults and over and $15.95 for children, ages 6-12, plus 7 percent sales tax. Children five and under are free with full paying adult. Group rates are available for groups of 15 or more; for more information, call 863-984-3500, ext. 220. For general information, visit www.fantasyofflight.com.