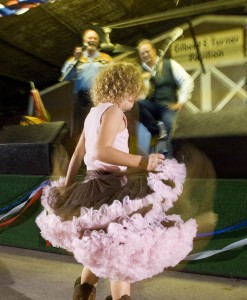 We are slowly recouperating from last weekends events. Roar 'n Soar was a big success and I will write a post about it when I get some final numbers and round up some great photos.  After I finished flying on Saturday, I headed off to a music festival called Riverhawk to do a photo shoot for a music video I am working on.
A friend of mine named Mark Johnson is a renowned banjo player and two years ago at this same festival he played a tune on stage he wrote and later recorded named "Katie Weeks"  after my daughter.  It was on his second CD Album called "Acoustic Rising", which later went on to be nominated by the International Blugrass Music Association's Instrumental for Album of the Year!  It also became one of the top requested songs off the Album on Bluegrass XM Radio.
Anyway, at the festival two years ago Mark told us to catch his act.  Katie was 2 1/2 at the time and dressed in a cute little cowgirl outfit.  We were all sitting in the front row and it was the first time Teresa and I had ever heard the song.  When Mark began to play it, Katie spontaneously got up, went out in front of the stage with everyone watching, and began twirling around the dance floor!
As you can imagine, everyone was very touched by what was going on.  About eight months later the CD came out and I began listening to it in my car.  It was a great tune and, as my thoughts flashed back to the scene of Katie dancing, words began to come to me.  I soon realized I was to write a song for it.  After a couple of months I had the lyrics done, went down to a recording studio, and laid some rough vocal tracks over the original instrumental.  Everyone I played it to was tearing up by the end of the song!
The vocal version has become "Daddy's Little Girl" with the intent of recording the tune properly and creating a music video to go along with it.  I don't want to spoil the final product but I hope to create an Internet Site where daughters can download the song attached to a Father's Day card!  At some point, Father's will be able to send it along with a card to their daughters.
As if I don't have enough projects going on, I hope to have this done and launched by next Father's Day in June!  I am attaching a picture of Katie dancing with Mark and I in the background from last weekend.  Just to give you a taste of the song the first verse and chorus of "Daddy's Little Girl" goes like this –
You see that little girl . . . the one just over there . . .
Full of innocence and wonder . . . big blue eyes and curly hair . . .
Well, I just thought you'd like to know . . . that smile with skinned up knees . . .
Well, that's my little girl . . . so watch her . . . if you please . . .
Chorus –
Watch her dance . . . watch her smile . . . watch her spin . . . laughing all the while . . .
And if you see that little girl come dancin' 'cross the floor . . .
You'd better grab your heart . . . 'cause it's gonna melt some more . . .
Watch her dance . . . watch here twirl . . . watch her spin . . . she's Daddy's Little Girl!
Kermit