As most of you know Hurricane Andrew devastated the Weeks Air Museum in Miami in August of 1992. As we were digging out of the rubble in Miami and rebuilding the Museum down there we slowly began the development of Fantasy of Flight here in Central Florida. Many of the airplanes were either sent out for repair or slowly moved to Central Florida. A new group of enthusiasts continued on with the Miami facility as the Wings Over Miami Museum.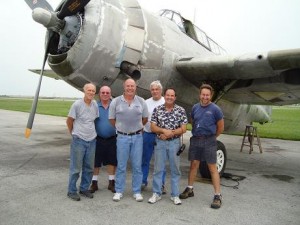 My last flyable airplane on display in Miami was a Grumman TBM Avenger torpedo bomber. Over the years, the Hurricane damage was repaired with the intention of flying it to Fantasy of Flight. Well, last week was the big date to test fly the aircraft and hopefully bring it up. I had last flown the TBM since just before the Hurricane over 15 years ago and needed to get recurrent at the same time I was test flying the airplane as the FAA requires a re-currency check on any airplanes over 12,500 lbs. The first flight went great and my only concern was I had recently been flying my little Grumman Wildcat fighter and when I got the TBM off the ground I thought the control stick had somehow been set in concrete! I couldn't believe how heavy the controls were compared to the Wildcat. It all slowly came back to me and I became comfortable very quickly.
While I got my recurrency check complete, I was not able to fly the airplane home as it developed some ignition problems. We had to take the magnetos off as well and order a new set of spark plugs. As soon as that is fixed, we will get the airplane up to Fantasy of Flight! I drove home with the check-pilot and we then jumped into the Ford Tri-Motor and I got recurrent in that. So, if you come to visit in the future there is a chance you may see the Grumman Wildcat, the Grumman TBM or the Ford Tri-Motor in the pattern!
I am also about to head off around the world with a first top in Maui to work on a book about my 10-Program experience at the Monroe Institute. If you think you might be interested in exploring Inner Consciousness and Out of Body experiences, check out www.monroeinstitute.org. I hope to have most the book, "The Journey Never Ends!", edited by the end of this year.
I'm then off to New Zealand to spend some time with Peter Jackson (director of Lord of the Rings and King Kong). He is a WWI airplane nut like me and has an amazing bunch of airplanes being built up. I loaned him 3 WWI German Mercedes engines and will get to see the first one running on the stand while I'm down there. He is using them for patterns and is in process of building engines from SCRATCH! We also just send him a crankshaft for a Hisso for one of his SE-5's he built. I hope to get to fly one while I'm there. I had also loaned him the front and rear turrets off my Lancaster Project as he is under development to redo the "Dambuster" film! He had about eight full-size Lancs built out of fiberglass. I am sure he will do a great job and can't wait to see the film!
Then I'm off to Australia for some business meetings, but not before I stop in and look at my Kingfisher and P-39 projects in Wangaretta, north of Melbourne. I continue on to London to check on the final stages of my Hawker Tempest V project, which we are bringing up to displayable condition. Everything has been rebuilt to airworthy standards but we are currently just trying to get it displayable for Fantasy of Flight. I have two Napier Sabre engines for it and one day hope to make it fly!
I get home just in time to catch up for a few days and then head to Oshkosh to promote my book, "All of Life is a School!" It's all about the Journey so enjoy what you love to do!
Kermit