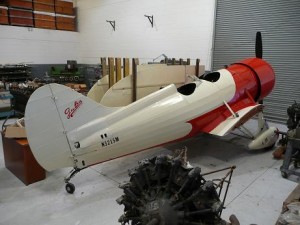 Last week another Gee Bee book character arrived at Fantasy of Flight and it's Puff! She's Zee's cute little girlfriend in the story but a Gee Bee Y Sportster in real life. There were only two built but the orginals don't exist anymore. I found this reproduction on the market and made a trade for it. The intention will be to put it together for display. While it had been flown a number of times by the builder, we want to take a good look at it and make a few changes. When I first got in the cockpit, the rudder pedals were too far back for my long legs and the ones in the front were even closer. For the time being it will make a great display.
Early next year we plan on doing some live action filming with the three Gee Bee airplanes for a DVD we are making and hope to place on PBS. We have already taken the "All of Life is a School" book and used the original illustrations with me narrating it to create a short video. We even included the song I wrote. I plan to add some live action footage with kids at Fantasy of Flight around the real characters and include some of the original historical footage that is currently on the www.geebeefun.com website.
So far on display at Fantasy of Flight from the book we have Gee Bee Zee, Jimmy G. Gee Bee, Puff, Matty and Stout. I acquired Missy a few months ago but she won't arrive until around March of next year.
Plans are to make this new addition just like Puff in the book one day; including the bump cowl, the little wheel pant for the tail wheel and a covered front cockpit. Will she ever be pink? Well, I guess that depends on how much she powders her nose!
Kermit