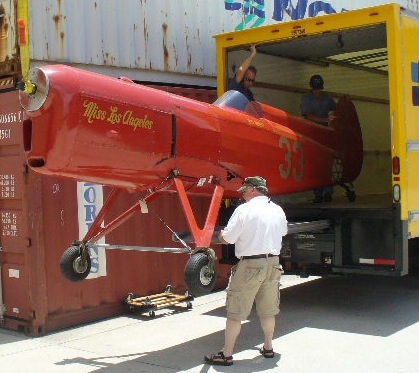 Another character from my Gee Bee Book All of Life is a School has arrived at Fantasy of Flight . . . Missy!  
She's a faithful reproduction of the famous Brown B-2 racer Miss Los Angeles that raced in the 1934 Thompson Trophy Races, placing 2nd.  
Since the original aircraft no longer exists, this aircraft was meticulously built by Bill Turner in the 1970's.  A 200 hp six-cylinder Ranger engine was used in lieu of  the original, extremely rare, 300 hp six-cylinder Menasco engine.  Until recently, Missy was on display at the Hiller Aviation Museum in San Francisco.  
The aircraft was flown as recently as a couple of years ago so we will put it on the maintenance schedule and get her flying again as soon as we can! 
If you would like to share your love of the Golden Age Racers with a special child in your life, check out Missy and her friends at www.geebee.com.
Kermit