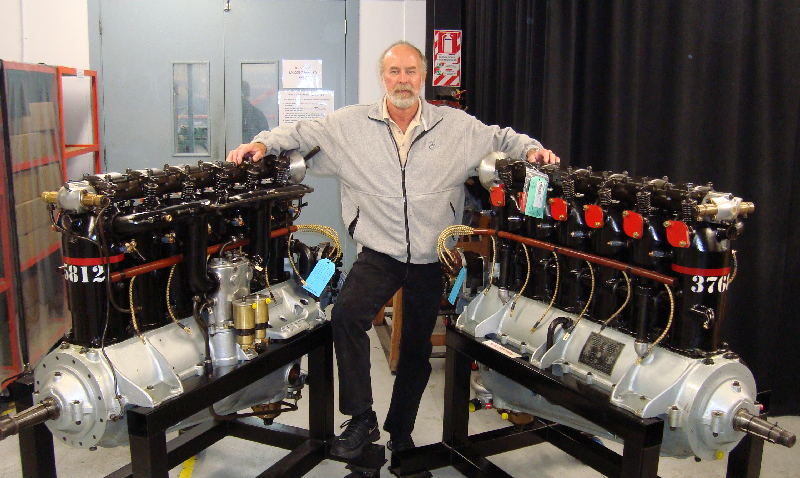 I recently returned from a trip Down Under and got a chance to check up on several projects.  My first stop was New Zealand where I got to visit Peter Jackson and his staff.  Two of the three Mercedes engines I sent down were overhauled with one destined for my Fokker D-7 project.  I have several other exciting engine/airplane deals going at this time with Peter which I will report on at a later date.
I first met Peter through Gene DeMarco whom I had known from vintage aircraft for many years. Gene used to fly at Old Rhinebeck Aerodrome in New York State and I got the chance to dogfight Gene flying a Sopwith Camel while I was picking up and flying my Fokker D-VIII on a show weekend. Peter shares a love of WWI aircraft and hired Gene when he began collecting airplanes.  Between films the technical specialists build airplanes and it's amazing to see what they're doing.  I only wish I had the wherewithall to do what they're doing at the same level.  Maybe one day Gee Bee will be as big as King Kong!  In success, not size. Anyway, what they're doing for WWI aviation history is awesome and very inspiring!
Most of the time I was there the weather was not very good, but it cleared up one day and we headed up to where they keep their flying airplanes.  There I got to fly one of their scratch-built Be-2C's, including a scratch-built RAF engine.  I also got to fly an Avro 504 with a 100 Gnome rotary, as well as, be a gunner in their amazing Fe-2B reproduction with an original Beardmore engine!  Talk about a blast.  It was . . . literally! I also got to taxi around their amazing WWI Albatross reproduction with an original Mercedes engine.  It sounds like a John Deere tractor and I can't wait to be the first kid on my block to have one running!
One day, we hope to do a WWI show at Fantasy of Flight.  With the way things are progressing, it won't be long before we could do a great one with just the airplanes we have . . . even if nobody else shows up!
Kermit