Recently, Kermit and the crew visited Duluth, MN to check up on the progress of the "Lark of Duluth" project being built by the Duluth Aviation Institute.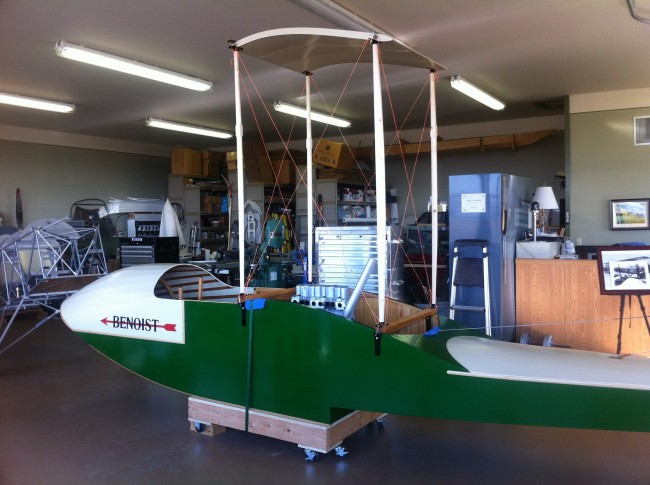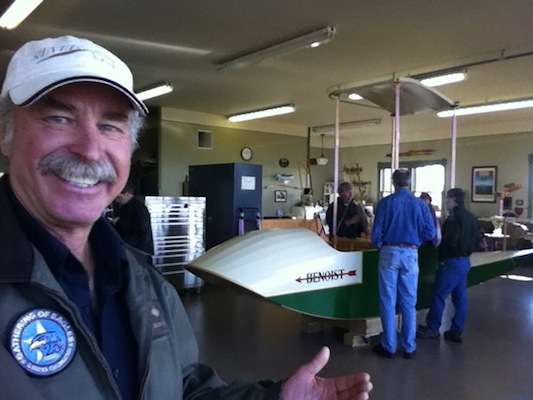 This Benoist is a replica of the forerunner of the Benoist we're building for the 100th Anniversary flight of the first scheduled airplane airline service on January 1st, 2014 flown by Tony Jannus from St. Pete to Tampa.  While we are approaching our construction efforts and purposes from two different design perspectives, our project gets to benefit somewhat by theirs, as we're not "on stage" until six months after they are.
The Engine
Since there are no original 75hp six-cylinder 2-cycle Roberts engine available for our Benoist, we're building one from scratch. They have opted to use an off-the-shelf 140hp 4-cylinder 4-cycle GM marine engine. Both are liquid cooled.
Since their engine turns at a higher rpm, they will have to change their sprocket ratio from the engine to the propeller to get the propeller to turn at the proper rpm. Our sprocket ratio will be the original 1:1, meaning the propeller will be turning the same rpm as the engine.
While it will certainly be less costly than our engine, it will NOT sound like ours. Think Honda vs. Harley!
The Cockpit
Here's their cockpit. Kermit loved the way they did their seat construction. Currently, ours is plywood.
We're sure the original did NOT have seat belts but both projects use them for safety.
The main control stick is the tall one and the rudder control is the handle on the left… forward for right and backward for left. Their workmanship is awesome!
The Wings
Here are their finished wings!
They hope to fly their airplane for many summer seasons so opted to paint all the fabric surfaces.
Most of the original pictures show unpainted fabric surfaces, which we will reproduce with just clear dope.
Showing off the Prop
Here, project head Mark Marino and Kermit show the position of the propeller, which is driven by two sprockets and a large chain.
This picture below was taken from the original airplane over Duluth from a camera mounted out on the wing. You can see the pilot squeezing the bulb with his left hand to take the picture!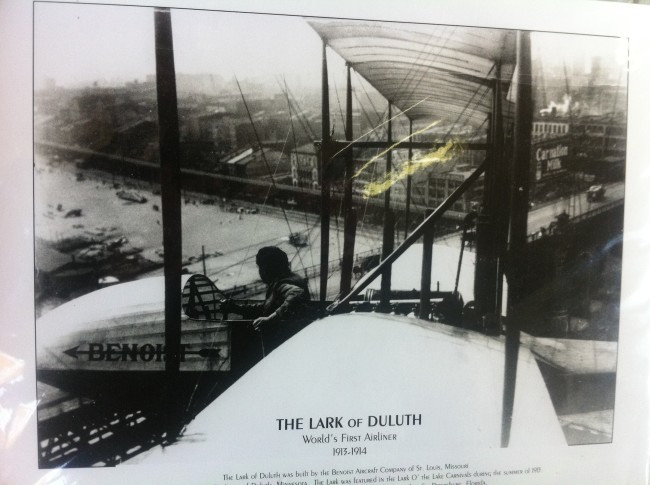 Our visit pointed out just how far we have to go but at the same time served as a source of inspiration for all involved!