Having traveled around the world, then to Oshkosh and then to the west coast, I am finally home for awhile!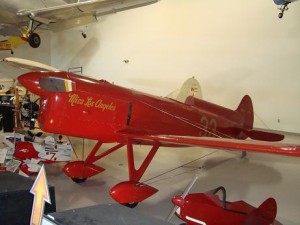 I just returned from San Francisco where I acquired a reproduction aircraft of the "Miss Los Angeles" Racer that is one of the characters featured in my book "All of Life is a School".  This new addition of "Missy"  will bring the total number of characters I will have on display at Fantasy of Flight to five of ten!  I am working on a plan to display the aircraft at the Reno Air Races Septemeber 10 – 14 to help promote the book sales and have it home sometime after.
By the end of my trip I also hit a major milestone in my book "The Journey Never Ends!"  I have completed semi-final drafts of the ten main chapters that describe my experiences during the ten Monroe Insitute Programs I attended beginning in January of 2006 and ending in November 2007.  It was an unbelieveable experience  that was basically  exploration of consciousness that was nothing short of profound, phenomenol and at times unbelievable.  I have a rough Introduction and Summary as well.  I will continue to edit and proof read as time allows and hope to publish the book sometime in 2009.
Kermit