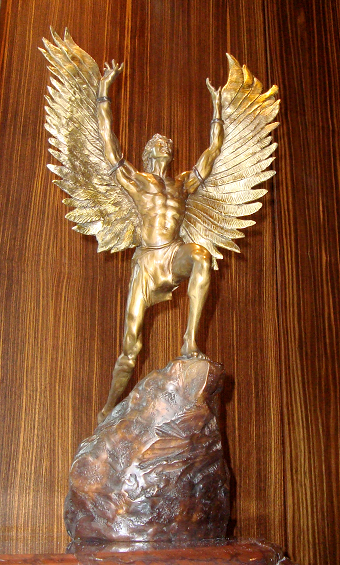 I am excited we have one of the first bronze castings of a sculpture I commissioned early last year.  It is about a foot and a half high and will be titled "Fantasy of Flight".   And while it looks similar to Icraus it is not exactly.  Icarus was a young boy that flew too close to the Sun, his wax wings melted, and he crashed into the sea.
This sculpture symbolizes Humanity reaching beyond itself and about to take the leap to rise to a Higher Level.  Six more have been cast and we are currently playing with different patina's, which is the color process we can give to the bronze.
You will notice there are still straps attaching the wings that are similar in dark color to the Earth it is about to leave.  This symbolizes Humanity still being bonded to this lower Reality.  The body is a medium color and the wings will be the lightest color symbolizing a Higher Reality.  We are currently doing some of the  wings in gold-leaf .
If you'll notice, the wings are actually beginning to morph into the body, symbolizing Humanity beginning to morph into a Higher Dimensional Being.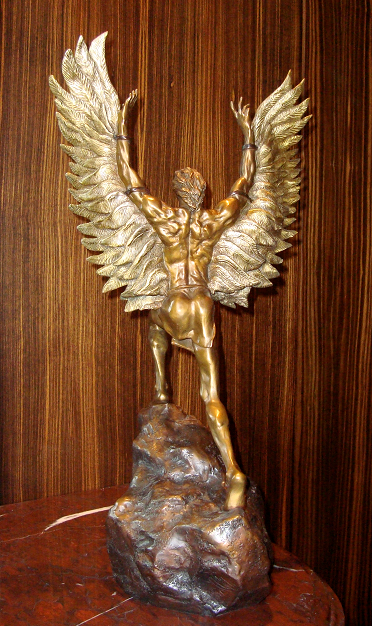 This is the first pass at a much bigger dream.   We hope to sell these in our gift shop in both bronze and also in less expensive resin.  We are currently working towards a rotating round base that will also have the definition of Fantasy of Flight inscribed which is, "That which draws us beyond what we think we are . . . to become more of what we Truly Are!"
Our next attempt will be to refine this sculpture into a full-size one that would be displayed outside.  The biggest dream will one day be a 60 to 80 foot Icon welcoming you as you drive off of the Interstate and into the "Orlampa" property.  As you drive north, it will be coming at you as it reaches south towards the Sun.  The Sun will symbolize the "Star" in the Fantasy of Flight logo and can represent whatever you want it to be.  That could be a Dream, a Goal, or a Destiny!
Kermit