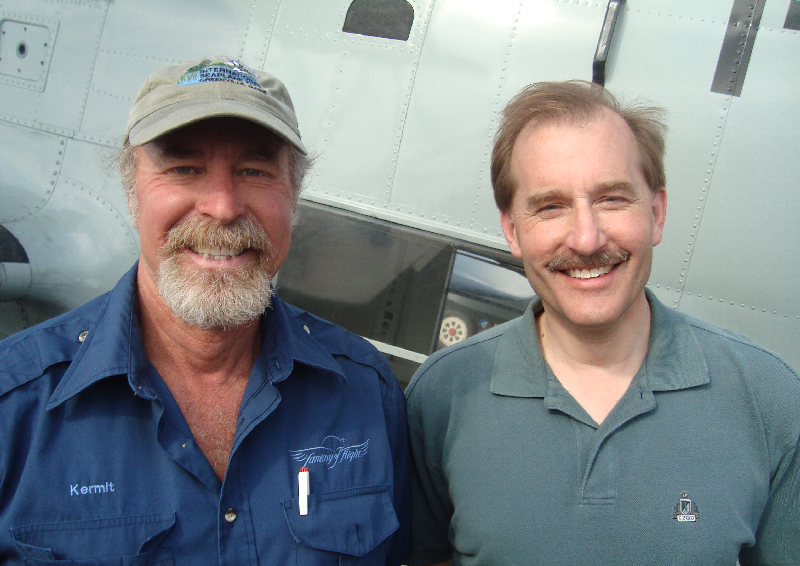 I arrived home late evening from my trip to Egypt on a Wednesday and had to wake up early the next morning and hit the ground running.  This was the day of the Sun 'n Fun Splash-In at Fantasy of Flight and I was scheduled to pick up an important visitor on the Sun 'n Fun ramp at 9:30am.  It was none other than Jeff Skiles, the copilot on the US Air Flight 1549 that successfully landed in the Hudson River in January of 2009.  It was billed in the media as the "Miracle on the Hudson" and all 155 people aboard survived.
We had arranged for Jeff to come over to Fantasy of Flight and speak about his experience at a special luncheon in the Orlampa Conference Center.  Since it was the day of the Splash-In, I thought it would be great to bring Jeff over in the Duck for a grand arrival on the shores of Lake Agnes.  Jeff and Sun 'n Fun officials greeted me and, after some pictures, we both jumped in the Duck to head back to Fantasy of Flight.   Cruising over, and talking on the intercomm, I was not too surprised to learn that Jeff had never been in a Grumman Duck.  But what did surprise me was we were just about to make his first ever water landing in an airplane that could actually take-off again!
I let Jeff do the flying on the way over and he did a great job.  It's not very easy to see out of the back (let alone the front!) and the controls are not as pilot friendly as in the front cockpit.  Anyway, after landing the Duck in the lake and getting out, I made him sign the airplane logbook stating this was his first successful landing in an airplane he didn't have to swim away from!
Kermit