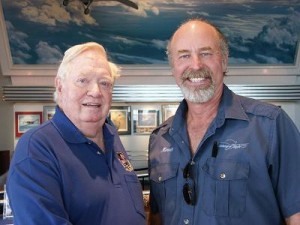 I had the opportunity to have lunch with an old friend of mine, Joe Kittinger, and some of his River Rat buddies.  They flew during the Vietnam Conflict and are planning to have their 2010 Annual Convention in Orlando and use Fantasy of Flight for an off-site "flightsuit" party!  I hope to be in town to enjoy the festivities and maybe fly a P-51 or something for them! 
I have known Joe since coming to Central Florida.  He came to my Fantasy of Flight Grand Opening Party in 1995 and used to fly the Rosie O"Grady banner planes around Orlando. 
Joe has an interesting history and is one of aviation's greats!  While testing the limits for the Astronaut Program, Joe set an altitude record for the highest free-fall skydive.  He launched in a gas balloon from New Mexico and stepped out at 103,000 feet!  I believe he is the only human to go faster than the speed of sound WITHOUT an aircraft!  Do a websearch on him for the full story!  He was also at Roswell when the UFO crashed after WWII but never would confirm anything about the event.
I was honored to be included with Joe and 14 other aviation notables at the 25th Anniversary of the "Gathering of Eagles" at Maxwell Air Force Base in Alabama in 2006 .  It was the 25th Anniversary of the Program and we were invited to talk to 800 students from the War College graduating class about things like Succes in Life, Leadership, Values, etc.  Another friend was there, Lee Archer (highest scoring Tuskegee Pilot) so I flew my P-51C "Ina the Macon Belle" up for the festivities.  This was Lee's paint job during WWII and the plane became the centerpiece of two giant BBQ events.
While at the "Gathering" I saw a great opportunity to twist history slightly and have some fun.  I mentioned to Joe and some of the other "Eagles" that Niel Armstrong had actually "borrowed" a statement from Joe when he landed on the Moon.  The statement I attributed to Joe as he stepped off the Balloon Gondola and into Space was, "One small step for mankind . . . One giant leap for Joe Kittinger!"
Kermit