I am pleased we finally opened our tribute to the WASP's at Fantasy of Flight.  It's a new exhibit we hope will create an opportunity to meet our Mission Statement, which is to "Light that Spark Within!" 
As with our Audio Experience CD "We are the Past!" we are trying to accomplish that by delivering the Human Experience, through Entertainment, and in a way that people Self-Discover something about themselves.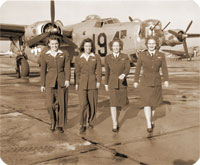 The four panel exhibit in ourSouth Hangar is about the Women's Airforce Service Pilots that flew all the great airplanes that the guys did during WWII, but it's really a story we all relate to: one of overcoming obstacles and discovering the hidden potential within.  The exhibit incorporates three videos along with text as well as artifacts and tells the story of the WASP's in a way we hope will cause you to reflect on your own Journey!
I hope everyone gets a chance to come by and check out this next step towards becoming an industry based on things that are REAL, delivered through Entertainment, and in a way that inspire you to continue forward on your Journey of Self-Discovery.
Kermit