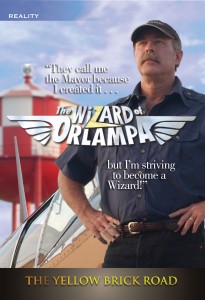 The Wizard of Orlampa DVD is now for sale in the Fantasy of Flight gift shop.  It's 51 minutes long and begins with what we currently do at Fantasy of Flight regarding the airplane collection then slowly morphs into where Fantasy of Flight is headed in the future.
Check out a quick preview of the beginning of the show at http://www.wizardoforlampa.com.  The site is just preliminary and we currently don't have our online sales set up yet.  If you don't get out to Fantasy of Flight to pick one up, check back from time to time on the website.  We just ordered some DVD's in the European PAL type version, which will be available as well.
Currently, we are working with two different PBS outlets for show on television and will let everyone know when that might happen.
Kermit