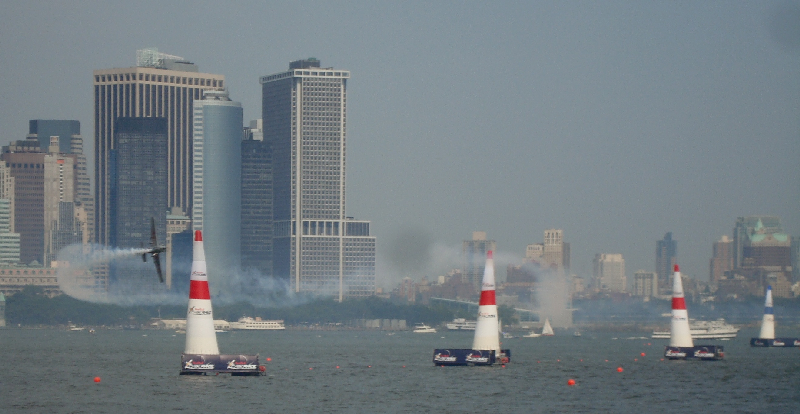 On my way home from Down Under I got a chance to stop in New York City and see my first ever Red Bull Air Race.  I had seen pictures of them in magazines but really didn't know what to expect. It turned out to be an exciting way to deliver this type of aviation to the public in a way they could really follow and enjoy.  The job they did with lipstick cams, commentary, quick judging, scores, and instant slow motion replays on jumbotron screens for the crowds was nothing less than amazing. I was blown away by the marketing machine they've created!  If you ever see it advertised on the televison, it's worth checking out.
I had been invited to attend the race as a Living Legend of Aviation and spent a couple of mornings at the Kiddie Hawk Air Academy display helping kids fly the simultors.  They had printed a cool coloring book with all the Red Bull Air Racers as well as ten of the Living Legends, including me, so I got to sign them for the kids as well!
One of the reasons I was looking forward to attending was to hook up with some old friends I had not seen in decades.  Competitors I used to know from past World Aerobatic Championships.  It was great to see they had finally gotten the chance to earn a real living doing something they loved, although they did say it was a lot of work.
One new person I got to meet was Red Bull pilot Matt Hall from Australia.  He was sitting the NYC race out after "touching" the water with his airplane at the previous race in Windsor, Canada.  You can find the somewhat heartstopping clip on Youtube.  He told me I had inpired him when he was ten years old watching me fly the Weeks Solution on television flying during the Australian Phillips Super Challange, which I won in 1984!  Now, how cool is that!
After the race was over, the top three finishers came to the VIP tent and I got a chance to catch up with some old friends.  Peter Bonhomme was the winner with Nigel Lamb in second place.   I had met Paul several years ago but had not seen Nigel since competing in a contest in South Africa . . . twenty-five years ago!
I couldn't help but imagine how much fun it would be to compete in this and actually checked into it.  Unfortunately, it soon became apparent I would not be able to justify the time and commitment required.  Oh well, it doesn't hurt to keep imagining!  Let's see . . . they all fly aerobatic airplanes with symetrical airfoils . . . what if I designed a wing with a better L/D for high "G" turns . . . . . . Yeah, yeah . . . that's the ticket!
Kermit