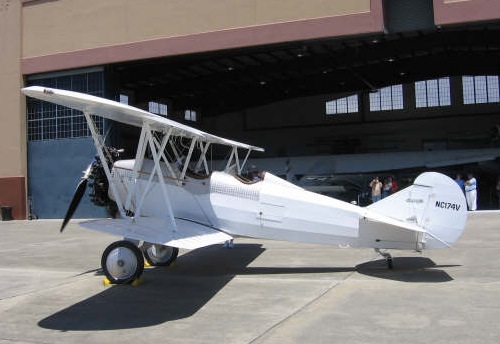 I recently test flew our Travelair 4000 after a complete top-overhaul by our engine restoration specialist, Andy Salter.  The aircraft sports a Wright J-5, which is the same engine that safely took Charles Lindbergh across the Atlantic in 1927.  This particular airplane had been out of license for eight years so it was great to get it flying again!  Andy is currently working on building up another J-5 to power our Spirit of St. Louis replica.  This is an extremely rare running engine and is possibly one of the very few, if not the only Wright J-5 engine currently flying!
One of the reasons we got it in the air again is there is a possibility of doing some movie work with it within the next year or so.  If this happens, we will use the Spirit engine as a back-up and when any filming is completed, we would then install it on our Spirit of St. Louis replica.  One of the small tweaks we need to do is to adjust the pitch angle on the ground adjustable propellor, as it is a bit coarse right now.  It currently has a higher cruise than normal, but needs a bit more horsepower for take-off and climb.  This can be accomplished by flattening out the pitch angel on the prop to allow the engine to turn up a bit more rpm on take-off, which translates to more horsepower.  Currently, it's like taking off in a car in third gear.  It takes a bit to get going, but once you get leveled off, and up to speed, it goes!
If you are in the Central Florida area this weekend, you can see it fly at Fantasy of Flight in conjunction with a Barnstormers Event we're doing July 25th and 26th.  I won't be able to fly as I will be heading towards the Oshkosh Fly-In that begins next Monday, July 27th to sell and autograph my products in the EAA Wearhouse near Aeroshell Square, Monday through Thursday.
I hope you can make it out to Fantasy of Flight this weekend, but if you find yourself up at Oshkosh, come by and say Hello!
Kermit