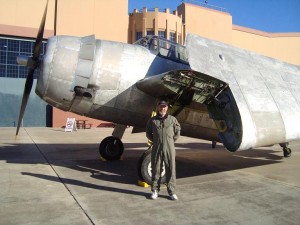 I recently flew the last airplane from what was the Weeks Air Museum in Miami to Fantasy of Flight.  It was my Grumman TBM Avenger Torpedo Bomber from WWII.  I flew this airplane until it was damaged by Hurricane Andrew in August of 1992.  Over the years many airplanes were either trucked out of Miami or flown out after being made flyable.  The TBM is the last airplane to finally come home and is somewhat the end of an era.  There is only one wing left on display at the now Wings Over Miami Museum and once that leaves, the only thing left of mine in Miami will be my mother!
I flew the TBM back from California in the 1980's after purchasing it where we put it in the colors of George Bush Sr. who flew them during the war and was shot down twice.  He was running for President at the time and the Republican National Party asked me to fly it up to Tampa for a press event.  I arrived early as the FBI had to check it over for bombs.  I told them it used to have a Torpedo!  
Anyway, when the then Vice-President Bush arrived and came out of  Air Force 2 with Barry Goldwater in tow, he bee-lined it straight for the cockpit of the TBM.  After following him up the wing and leaning over the side of the cockpit as he looked around like a kid again he said, "Kermit, I think if my life depended on it, I could take this off and get it around the patch!"
Over the years the guys at the Museum down there worked on it for me after getting the TP-40 flyable.  I went down last summer to test-fly it for the first time in over 15 years but had some magneto problems.  We sent them off for overhauled and recently went down and installed them.  After one safe 40-minute test flight over the airport I launched off for an uneventful flight to Fantasy of Flight.  Since we were on a ferry permit we will not be able to fly the aircraft until we do some additional work to bring everything up to airworthy standards.  We need to change out some fuel tanks, overhaul some instruments, clean it up a bit and put a paint job on it.  Once we do this it will be a great addition to Aircraft of the Day!
Kermit