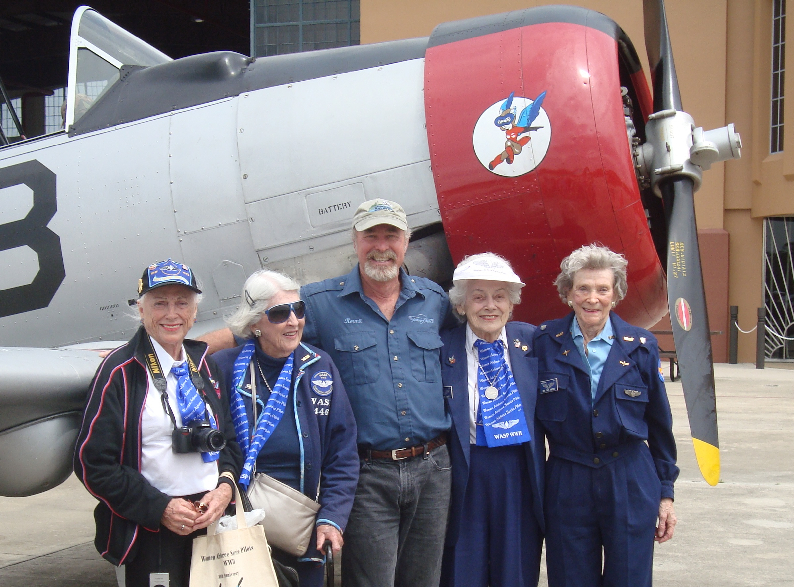 We recently held a symposium with four WWII Women's Air Force Service Pilots who came and spoke about their experiences.  Visitors got to listen to great stories and ask questions of how they overcame the predudice of the times in pursuit of their love for flying and helping support the war effort.  The gals help test and ferry military aircraft around the United States, which helped relieve the guys for combat duty.  Everything the guys flew, the gals did as well; including our first P-80 jet-fighter and our large B-29 Superfortress bomber, which ultimately ended the war by dropping the atomic bomb!
Taking a break during the symposium for Aircraft of the Day, I flew our North American AT-6 Texan trainer painted in WASP colors to honor them.  The aircraft markings at their training base in Sweetwater, Texas included red wings stripes, a red nose and tail, and the Disney-designed WASP mascot named "Fifinella" on the cowl.  Never one to miss an opportunity, I strapped one of the gals in the back seat and, after making a few passes for the crowd, flew off to let her do some flying of her own.  She did great!
Not only did the gals help inspire what later became the women's movement for equal rights, they were babes as well, which still continues to show!  There is no question that when the guys came back from the war, they came back to a different type of woman!  I've had many opportunities over the years to get to know many of the gals and am saddened we are slowly losing them over time.  My hats are off to them for what they did, as well as their continued interest in sharing their inspiring stories.  I think it was a great trip down memory lane for everyone in attendance.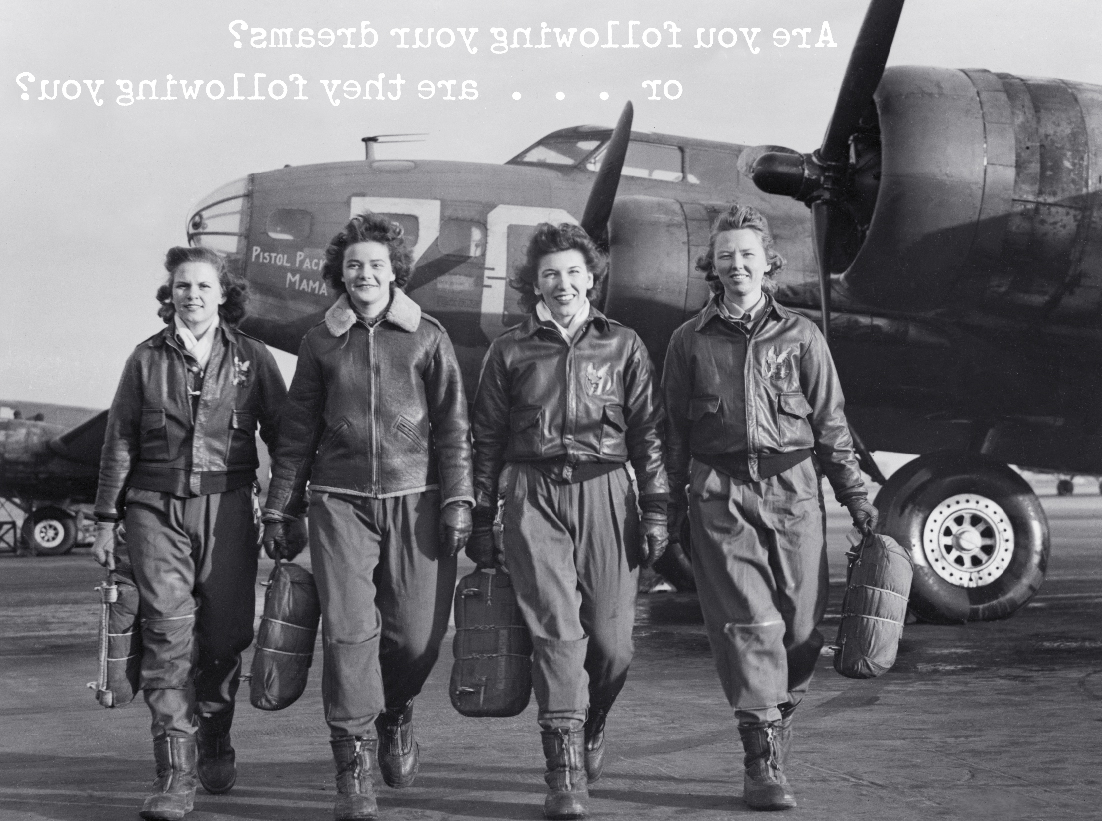 I am also excited to announce that we have completely a long-awaited project honoring the WASP's in a very unique way.  Women patrons visiting our center hangar restroom facilities will be surprised to find a new addition.  One wall now has a life-size famous picture of four WASP's walking down a flightline, parachutes in hand, with a saying written backwards above them.  You initially don't exactly know what's going on until you stand by it, turn around and read the saying in a large mirror.  You become part of the picture, in front of the gals, and read the thought-provoking message, now correctly written.  Click on the picture above, read it backwards with a mirror, imagine yourself lifesize in front of the gals, and you will get the basic effect.
To take the "facility experience" to an even greater level, each bathroom stall now has a different airplane picture and its name on the door.
Once seated you find yourself looking into the cockpit of one of the famous planes the WASP's flew, which are on display!  I hope all the gals reading this will come out to Fantasy of Flight to check-out in our new immersive experiences!
And, while everyone else will remember these gals as the WASP's . . . to me, they will always be my "Honeybees!"
Kermit