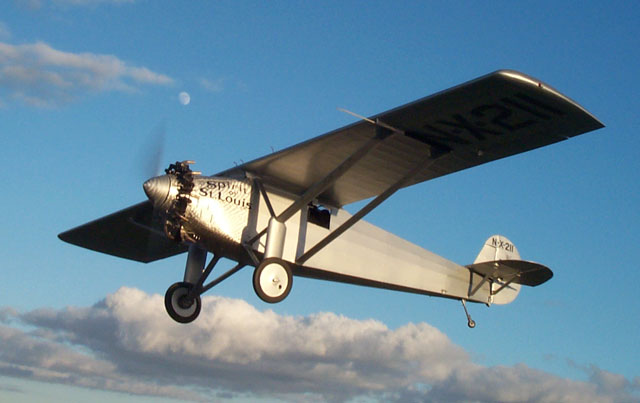 1927 Spirit of St. Louis
This aircraft is a replica of the Ryan NYP that Charles Lindbergh flew from New York to Paris. When Lindbergh went on a search for someone to build an airplane to compete for the $25,000 Orteig Prize, he settled on the Ryan Aircraft Company in San Diego, California.
The prize had been offered for many years for the first flight between the cities of New York and Paris but the technology had not been available for an aircraft to make such a long flight. Designed by Donald Hall to Lindbergh's specifications, the "Spirit of St. Louis" was built in less than 60 days.
In April 1927, winter weather over the North Atlantic was predicted to improve in the following days, and several competitors were already getting ready on Long Island and in France. The "Spirit" was completed, and after a few test flights, Lindbergh headed east on May 10, 1927. He flew all night over the Rockies and arrived in St. Louis the next morning. Lindbergh wanted to show off the plane to the businessmen who had backed the airplane and to the city that it had been named after. He arrived on Long Island the following day. There he waited a week, performing last minute preparations to the airplane and waiting for the rainy weather to break.
On May 20, Lindbergh and the "Spirit of St. Louis" headed down a muddy field and headed east in the morning mist. Thirty-three and a half hours later he arrived in Paris.
Specifications
Year Built — 1927 (original); 1979 (reproduction)
Wingspan — 46′
Cruise Speed — 100 mph
Top Speed — 120 mph
Gross Weight — 5,250 lbs
Original Engine — Wright J-5 Whirlwind (223 hp)
Current Engine — Lycoming R6-80-8 (225 hp)
Kermit's Comments
This aircraft was built in the late '70s by Dave Cannavo in Dover, Delaware. I acquired the aircraft in 1995 and flew it home to Fantasy of Flight. In May of 2002, I participated in a re-enactment on the 75th anniversary of the historic flight. Using the EAA's "Spirit" out of Oshkosh, Wisconsin, I landed at Lambert Field, St. Louis, 75 years after Lindbergh—to the minute. Lindbergh had originally taken-off from Roosevelt Field on Long Island, but the site is now a giant shopping mall, so I was forced to re-enact the New York take-off from the closet airport, Republic Field, which is about 10 miles away. The next day, I landed this "Spirit" at Fantasy of Flight at 3:22 p.m. (Lindbergh's 10:22 p.m. Paris time landing) to a crowd of press and patrons.