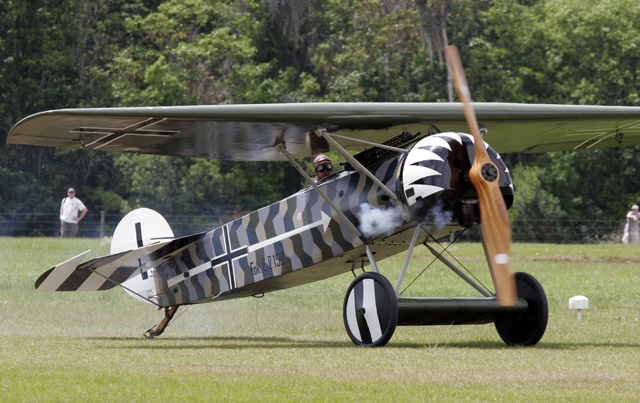 1918 Fokker D-VIII
This was the last German fighter designed and built by Anthony Fokker during World War I. He ended the war as he started: with a monoplane design.
Unlike his earlier 1916 Fokker E-III Eindecker, this one has a cantilever wing and no external bracing wires. It was designed to take advantage of an abundance of rotary engines that were available and offered much improved visibility over the biplane design. Because it arrived in the last few weeks of the war, it did not have very long to prove itself. Using a thicker than normal airfoil section for the period, Fokker created a wing that was internally strong enough to eliminate external bracing wires or struts. Pilots were initially distrustful of the non-braced wing design, but it gained favor as a good replacement for the Fokker Triplane.
This aircraft was the second Fokker D-VIII built by Brian Coughlin from New York State. Like his first aircraft, this one was displayed and flown at the Old Rhinebeck Aerodrome in Rhinebeck, New York, for a number of years. Kermit acquired it in 2001. Fascinated by World War I aircraft, Kermit first visited Old Rhinebeck when he was 14 years old. Returning to collect his new aircraft in September of 2001, Kermit realized a dream he had since he was a child: to fly at the Aerodrome and dogfight with a Sopwith Camel.
Specifications
Year Built — 1918
Wingspan — 29'4″
Cruise Speed — 90 mph
Top Speed — 120 mph
Gross Weight — 1,334 lbs
Original Engine — Oberursel rotary (110 hp)
Current Engine — Gnome rotary (160 hp)
Armament — Two 7.92 mm Spandau LMG 08/15 machine guns
Kermit's Comments
Surprisingly, the pistons in a rotary engine do not go up and down as they do in a normal reciprocating engine. The crankshaft is fixed and does not rotate. The crank journal is fixed in the twelve o'clock position and the pistons and connecting rods rotate around the fixed axis of the crank journal. The engine and propeller spin around on a different axis. If you could see through the engine, you would see the pistons and connecting rods spinning around on an axis above the spinning axis of the engine.