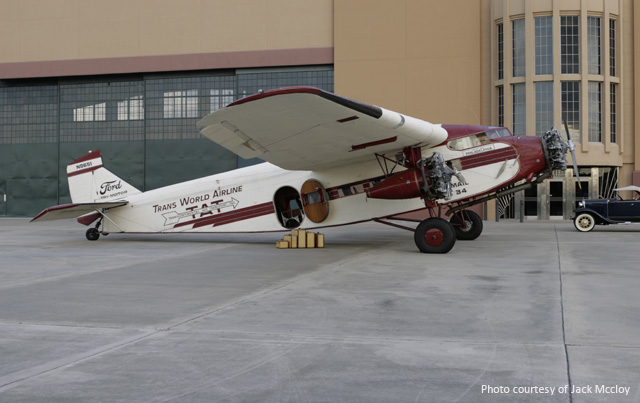 1929 Ford 5AT Tri-Motor
In the mid 1920s, Henry Ford could see aviation had a bright future. Accordingly, he undertook aircraft development and testing. The Tri-Motor was developed from several earlier designs and became America's first successful airliner.
The Ford Tri-Motor came out at the end of the barnstorming era when public distrust of aviation was at an all time high. Accidents were very common in those days, and the government had just stepped in to regulate aircraft. Many of the surplus World War I aircraft had been part of the problem and could not meet the new standards. Beginning in 1925, Ford sponsored "Air Safety" tours in an attempt to show the public that aviation could be safe and reliable.
The Ford Tri-Motor was involved in another interesting attempt to get the public to fly. The plan was to take passengers "Coast to Coast" in 48 hours! Starting in the evening in New York, passengers would board a train where they were treated to a nice meal, then went to bed. Waking up in Port Columbus, Ohio, they disembarked and were whisked to an airport, where they would fly all day in a Ford Tri-Motor. Arriving late afternoon in Waynoka, Kansas, they then boarded another train for an all night run to Clovis, New Mexico. The final leg of the journey was in a Ford Tri-Motor, which would arrive in Los Angeles by nightfall and in less than 48 hours.
Specifications
Year Built — 1929
Wingspan — 77'10"
Cruise Speed — 90 mph
Gross Weight — 13,250 lbs
Engine — Three Pratt and Whitney R-1340 (420 hp)
Kermit's Comments
In 1929, famous film actress Gloria Swanson christened this aircraft the "City of Philadelphia." It was owned by Transcontinental Air Transport and was actually used on the "Coast to Coast" run between Clovis and Los Angeles. In 1956, this aircraft was involved in a very interesting mishap. The left engine shook free and FELL OFF the aircraft in flight! The pilot flew the airplane with the two remaining engines and made a safe landing at the next airport.
In 1929, a newsreel film was made called "Coast to Coast in 48 Hours" to promote the new transcontinental service. This actual aircraft shows up in the film as the aircraft flying the Clovis to Los Angeles run and is greeted by Amelia Earhart! Continuing its film career in 1984, it starred with Harrison Ford in the first 10 minutes of Indiana Jones and the Temple of Doom.