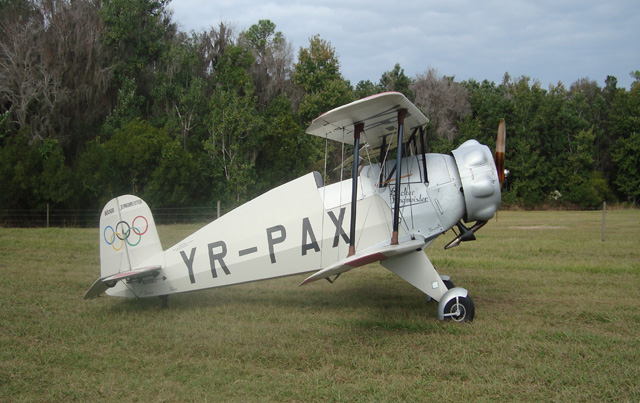 1937 Bücker Jungmeister
Evolving from the Bücker Jungmann, the Jungmeister was designed to be an airshow demonstration aircraft.
This aircraft is painted in the colors of famous Romanian aerobatic pilot, Alex Papana. He flew his Jungmeister in demonstrations at the 1936 Berlin Olympics inside the track and field stadium! The controls are light, responsive and very well balanced making it an absolute delight to fly. The Jungmeister has been used longer for aerobatic demonstrations and competition than any other aerobatic design. Aerobatic pilots of the past did such wild things such as attaching hooks to the wingtips or rudder and picking up handkerchiefs with it. It was capable of the most amazing low-level stunts!
This aircraft is a Swiss built Jungmeister. It was in the Miami area when Kermit was growing up and he remembered that it was kept at a grass strip just south of where he lived. Bill Hutchins owned it at the time and it was from him that Kermit purchased it in 1990. After Hurricane Andrew in 1992, the slightly damaged aircraft was sent to England and rebuilt by Personal Plane Services to a very original standard. As per the period, the fabric was sewn to the fuselage sides and the original German style zig-zag rib-stitching was used on the wings and control surfaces.
Specifications
Year Built — 1937
Wingspan — 21'8″
Top Speed — 137 mph
Gross Weight — 1,209 lbs
Engine — Siemens 160 hp
Kermit's Comments
When I purchased this aircraft in Sebring, Florida and headed back home to Miami, the oil pressure dropped to zero 20 miles south of the Sebring airport! I made a forced landing on US 27 and taxied in to the "Circle K" just south of Lake Placid. A trucker had called in the unusual circumstance on a CB radio and a sheriff cruiser found the aircraft and myself in the parking lot. When the deputy asked for my license, I happily gave him both my pilots and drivers licenses. I told him what had happened and insisted that I had touched down below the posted legal speed limit! He seemed satisfied, and after I got a picture taken of the deputy and myself with the airplane under the "Circle K" sign, he left.