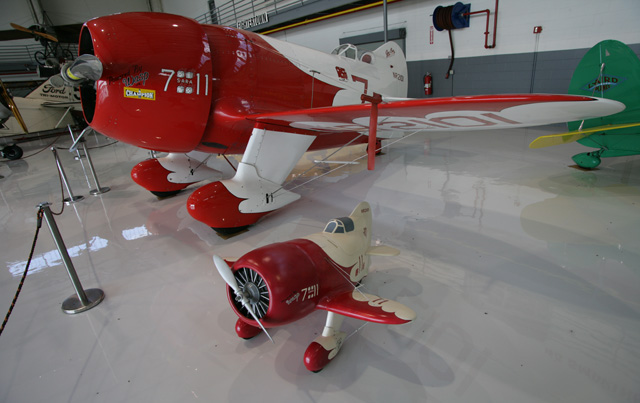 1932 Gee Bee R-2
This Gee Bee Super Sportster R-2 was built and flown by Delmar Benjamin and is a replica of the famed Granville Brothers Gee Bee racer.
It has been seen all across North America and Europe, flying a hair-raising routine to the delight of aviation minded audiences. Powered by a Pratt & Whitney R-985 engine, the Gee Bee Super Sportster R-2 is identical to the original, which was built specifically to compete in the popular air races of 1932. The R-2 competed in the cross country Bendix Race. A similar but slightly larger design with a Pratt & Whitney R-1340 engine was dubbed the R-1, which competed in the Thompson Trophy Race, a pylon event. Of the two, the R-2 is sleeker, with a more tapered engine cowl the larger power plant in the R-1 would not allow. Together they were the fastest land planes of their day.
Gee Bees competed in all the popular airplane races of the Golden Age. These highly engineered, tear-shaped, super planes required a skillful hand and perfect circumstances, but with the right pilot, they ruled the sky. Unfortunately, no original Gee Bees airplanes survived the rough-and-tumble racing years, but their unique appearance and pedigree have sustained their popularity. The Gee Bees here at Fantasy of Flight are among the few replicas that actually fly.
Specifications
Year Built — 1932
Wingspan — 23'6″
Cruise Speed — 230 mph
Top Speed — 270 mph
Gross Weight — 2,676 lbs
Engine — Pratt and Whitney R-985 (450 hp)
Kermit's Comments
The airplane stalls at 100 mph, which is immaterial according to Benjamin, since the effect of the ailerons is reversed at 110 mph or less. This flight characteristic makes this short tail dragger one of the more challenging aircraft to land and handle on the ground. Approach speed is 145 mph, with the wheels touching down at 120 mph, or else!
The Gee Bees were built for speed in a time when technical details like aerodynamic flutter were largely unknown. With less than 102 square feet of wing area to hold it aloft, the Gee Bees were indeed fast but suffered the consequences of pushing the speed envelope to their limit. Prior to flying the Gee Bee Z, I undertook flutter testing, which showed a problem above 240 mph. It is suspected this aircraft also has a problem, so before I fly it, it will be tested as well to determine at what speed it might likely occur.