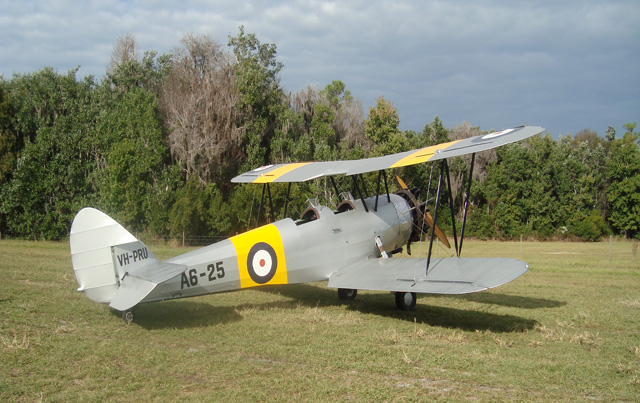 1938 AVRO Cadet
The Cadet evolved from the earlier Avro Prefect and was a smaller version of the Avro Tutor. Production was small with only 105 Cadets built in the mid to late 1930s.
Originating in England, the aircraft were initially used mainly by flying clubs. Thirty-four were purchased by the Royal Australian Air Force and shipped to Australia for use as primary military trainers. Since they were fully aerobatic and fitted with a fuel system that allowed prolonged inverted flight, the Cadet was a favorite performer at RAAF air shows.
This aircraft was acquired in 1997, beautifully restored, from Steve Merrett in Australia. It was one of the original 34 shipped there in the late 1930s. As a testament to its great handling qualities, only six were written off in accidents during its 10 year service with the RAAF.
After World War II, 17 were sold off to civilian interests and used for crop-dusting, flying clubs, training, and personal pleasure. Over the years many were written off in accidents or left to disrepair. This is one of eleven remaining Australian Cadets and one of only four which are still flying today.
Specifications
Year Built — 1938
Wingspan — 30'2″
Cruise Speed — 100 mph
Top Speed — 116 mph
Gross Weight — 2,000 lbs
Engine Type — Armstrong Siddeley Genet (150 hp)
Kermit's Comments
When I purchased this aircraft in Sebring, Florida and headed back home to Miami, the oil pressure dropped to zero 20 miles south of the Sebring airport! I made a forced landing on US 27 and taxied in to the "Circle K" just south of Lake Placid. A trucker had called in the unusual circumstance on a CB radio and a sheriff cruiser found the aircraft and myself in the parking lot. When the deputy asked for my license, I happily gave him both my pilots and drivers licenses. I told him what had happened and insisted that I had touched down below the posted legal speed limit! He seemed satisfied, and after I got a picture taken of the deputy and myself with the airplane under the "Circle K" sign, he left.