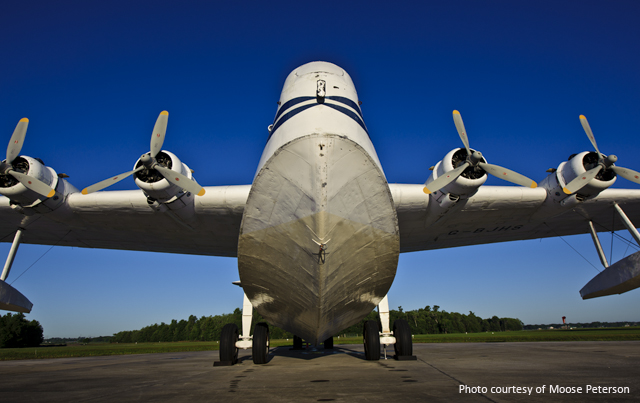 1944 Short Sunderland
The Sunderland was developed from the early British flying boats that serviced the Empire during the last Colonial days prior to World War II. The first Sunderland flew in 1937 and was the first British flying boat to have power-operated gun turrets. Capable of staying airborne for 16 hours, they were used for coastal patrol, cargo, air-sea rescue, and convoy protection against enemy submarines.
Because of the many guns protruding from the aircraft, the Germans dubbed it the "Flying Porcupine"!
Early Sunderlands were powered with the Bristol Pegasus sleeve-valve engines. Unbelievably for an aircraft with an endurance of 16 hours, they were not equipped with feathering propellers.
The British had been flying the American PBY Catalina flying boats and were very satisfied with their Pratt & Whitney engines. Because of the engine's feathering propellers and extra horsepower, the decision was made to incorporate them on the Sunderlands, beginning with the production of the Sunderland Mk V. Earlier aircraft were flown back to the factory in Belfast, Northern Ireland, and upgraded. The new power plants were essentially right off the PBY, cowlings and all.
Specifications
Year Built — 1944
Wingspan — 112′
Cruise Speed — 150 mph
Gross Weight — 57,000 lbs
Engine — Four Pratt & Whitney R-1830 (1200 hp)
Armament — Ten 7.7 mm machine guns – Two 12.7 mm machine guns – 4,960 lbs of mines, bombs, or depth charges
Kermit's Comments
In February of 1993, I purchased the Sunderland from Edward Hulton. This was a very interesting time for me as we were recovering from Hurricane Andrew. Work on the Sunderland continued in England for the next five months. In July, with a crew of five others, I flew the Sunderland across the Atlantic, making stops in Ireland, Iceland, and Canada. We flew the Sunderland directly to the 1993 Oshkosh Fly-In in Wisconsin, where it was left for another year while the seaplane ramp was being constructed at Fantasy of Flight. The Sunderland arrived in Florida in August of 1994. In 1996, the Sunderland was flown to Sarasota, where it participated in the Olympic torch relay to Atlanta by flying the torch from Sarasota to Miami on the 4th of July.