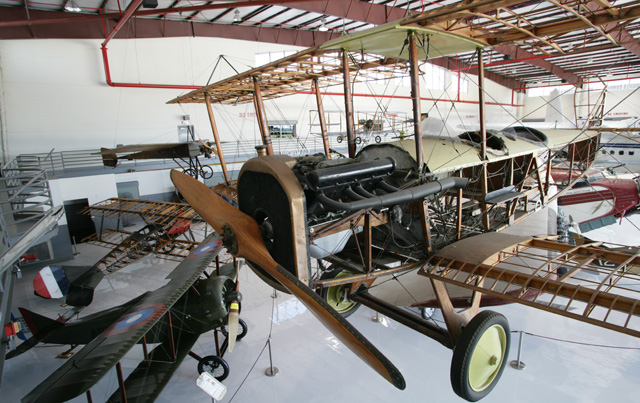 1917 Standard J-1
The first version of the Standard J-1 was one of four aircraft that helped General "Blackjack" Pershing and the U.S. Army to chase down the Mexican bandit Pancho Villa in 1916.
The Standard J-1 was designed by Charles Day, who also designed the famous Curtiss Jenny. When the United States entered the first World War in 1917, Standards were built to supplement Curtiss Jennys for training pilots. Most of the aircraft produced were underpowered with 4-cylinder Hall-Scott or 90 hp Curtiss OX-5 engines. By war's end more than 1,600 Standard J-1s were produced.
After the war, many J-1s were converted to the more powerful 150 hp "Hisso" engine and were used for barnstorming, joy-riding, and mail service. Because aviation was not regulated, it was only a matter of time before the accident rate began to rise. Largely due to poor maintenance and the deterioration of surplus World War I aircraft, the Air Commerce Act of 1926 was passed. Part of the new act included the stipulation that "[a]ll passenger carrying aircraft could not be built of wood, and those already made would be condemned." This effectively ended the Barnstorming Era and destroyed all but the 34 remaining Standard J-1s.
Specifications
Year Built — 1917
Wingspan — 43'10"
Cruise Speed — 85 mph
Gross Weight — 2,100 lbs
Engine — Hispano Suiza Model A (150 hp)
Kermit's Comments
Charles Lindbergh got his first airplane ride in a Standard J-1 when he was 20 years old. When the movie Spirit of St. Louis was about to be made in 1957, Paul Mantz was hired to supply aircraft for the film. The script called for a Standard J-1 to be used to portray Lindbergh's first flight. Using J-1 parts that Mantz had, guess who was hired to build up the Standard J-1 for the film? It was a gentleman by the name of Otto Timm, who had given Lindbergh his first ride in 1923! When Lindbergh heard that Timm was restoring this aircraft for the film, he visited his old friend in California. While Lindbergh was there, it is rumored that he flew this aircraft.