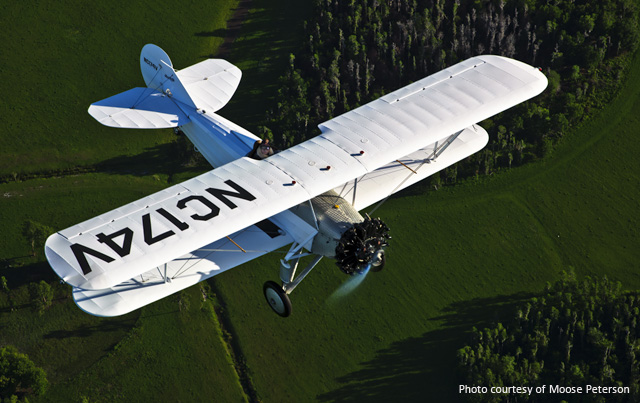 1929 Travel Air 4000
In 1924, Lloyd Stearman, Clyde Cessna, and Walter Beech formed the Travel Air Manufacturing Company in Wichita, Kansas. Their first effort was the Travel Air 1000, which was designed along the lines of the famous Curtiss Jenny.
A later model, the Travel Air 2000, was built with horn-balanced control surfaces, which were copied from the famous Fokker D-VII fighter from World War I. Because of the close resemblance to the Fokker, the 2000 was used in many 1930s war movies and became known as the "Wichita Fokker."
The Travel Air 4000 was introduced in 1929 and is similar in design to the model 2000 but without the horn-balanced control ailerons. The pilot sits in the rear cockpit with room for two in the front. It represents a classic example of the round-engine biplane: slow-flying and graceful. A beautiful aircraft from a romantic era.
In 1930, the Curtiss Wright Corporation purchased the Travel Air Company. After the final model 6000 was developed, Stearman, Cessna, and Beech would go on to contribute much to American aviation history with their own individual companies.
Specifications
Year Built — 1929
Wingspan — 34'8″
Cruise Speed — 85 mph
Top Speed — 130 mph
Gross Weight — 2,412 lbs
Engine — Wright J-5 Whirlwind (223 hp)
Kermit's Comments
This aircraft was built in 1929 and was restored by Kelly Mason in Washington State with a lot of attention to detail. I acquired it in 1996. Due to the long distance it had to travel, the aircraft was shipped by truck to Florida, where it was re-assembled and flown here at Fantasy of Flight. It is powered by a Wright J-5 Whirlwind engine, which was the same famous engine-type that powered the "Spirit of St. Louis" and Lindbergh across the Atlantic.
In 1997, this aircraft was used by the US Postal Service to help commemorate the first day issue of a series of airplane stamps. With the local Postmaster on board, I delivered the first ever airmail in the history of Polk City! Probably the last as well.