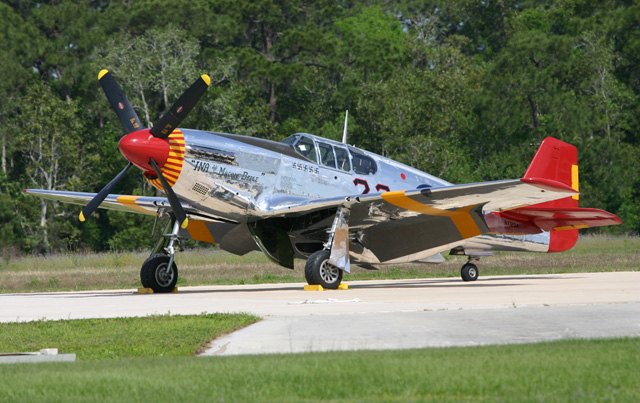 1944 North American P-51C Mustang
In 1939, the British Purchasing Agency came to America to buy aircraft for the war that had just started in Europe. Having experience with Curtiss P-40s (of Flying Tiger fame), they purchased all that Curtiss could build them. When they approached North American Aviation to build more P-40s, the company was not too excited about building a competitor's aircraft but offered to build a new fighter using the same American-built Allison engine. The British agreed, but on the condition the first aircraft had to be flying in no more than 120 days. 117 days later, the first P-51 flew!
Named the Mustang by the British, the P-51A was a great low altitude airplane but could not compete at altitude with the Spitfires powered by the British Rolls-Royce Merlin engine. With a more sophisticated supercharger, the Merlin could maintain its rated power to a much higher altitude than the Allison. Merlin-powered Mustangs were tested, and a great fighter was born.
The first Merlin-powered Mustangs were designated P-51 Bs and Cs, the only difference being the Bs were built in Long Beach, California, and the Cs in Dallas, Texas.
This aircraft was accepted by the U.S. Army Air Corps in 1944 at Lakeland, Florida, only 20 miles away!
Specifications
Year Built — 1944
Wingspan — 37′
Cruise Speed — 300 mph
Top Speed — 434 mph
Gross Weight — 11,000 lbs
Engine — Packard build Rolls Royce Merlin 1650 (1,500 hp)
Armament — Four .50 caliber Browning machine guns Two 500 lb. bombs on under-wing racks
Kermit's Comments
I acquired this aircraft in 1985 with the purchase of the Tallmantz Museum in California. Famous movie pilot Paul Mantz purchased this aircraft after the war, modified it, and won the Bendix race in 1948.