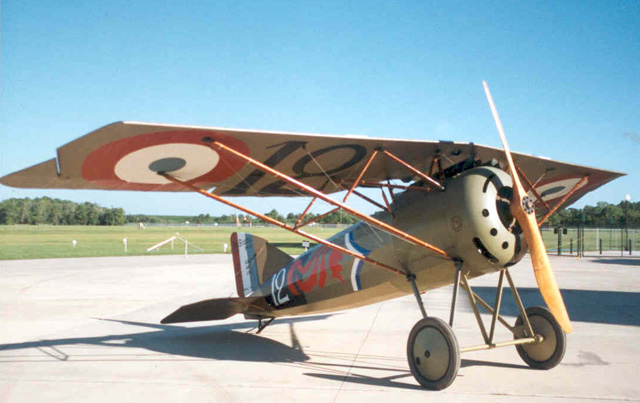 1918 Morane A-I
The A-I was the product of a long line of successful Morane aircraft. It entered service in the spring of 1918 in time to see combat during the last few months of World War I.
The parasol-type design had a big advantage over the biplane in that it provided improved visibility. The aircraft was a complete success, but by late 1917, the French had adopted the SPAD with its Hispano Suiza V-8 engine to equip all of its squadrons. The 160 hp Gnome engine was noisy and not as easy to operate as the liquid-cooled Hispanos.
When the Americans entered the war, they received 160 hp Gnome-powered aircraft from the French, including the Morane A-I and the Nieuport 28. Most A-Is were sold to the new U.S. Army Air Service and flew with two squadrons of the Lafayette Flying Corps. The Army used the majority as advanced trainers while several went to the Navy for "carrier" experimentation.
Specifications
Year Built — 1918
Wingspan — 28′
Cruise Speed — 131 mph
Gross Weight — 1,433 lbs
Engine — Gnome Rotary (160 hp)
Armament — Two .30 caliber Vickers machine guns
Kermit's Comments
This particular aircraft ended up in the Tallmantz Collection and was acquired when I purchased the Collection in 1985. It was sent to England and restored by Personal Plane Services in the late 1980s. It has the original style "aluminum powder in the paint" finish and newly manufactured Michelin tires.
The aircraft was painted in the colors of a pilot by the name of Lt. Demeraux, who flew with an escadrille who called themselves the "Knights of the Air." Their motif was a silver Knights helmet. Demeraux adopted his own version of the helmet, mantling in red, and as a personal marking adopted the blue and white chevron from one of his earlier units. While there seems to be no mention of Demeraux having any "kills" or surviving the war, he had one of the more flamboyant and interesting paint schemes of the period, which is why it was chosen for this restored aircraft.