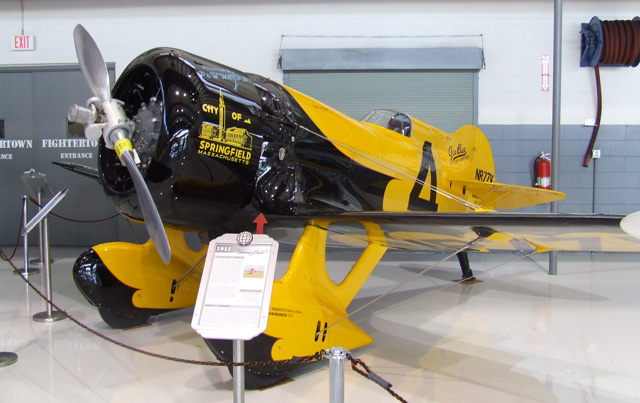 1931 Gee Bee Z
The Great Depression was tough on the aircraft industry, especially the sale of luxuries like the small sport planes the Granville Brothers built in Springfield, Massachusetts.
The decision was made to build a racer for the Cleveland Air Races in hopes that prize money could help support their dwindling sales. Bob Hall started engineering the first racer in July of 1931. It was named the Gee Bee after its builders, the Granville Brothers. In less than 6 weeks "The City of Springfield" made its first flight at a cost of less than $5,000. The Gee Bee would be flown by expert pilot Lowell Bayles and won every race it entered, including the Shell Speed Dash at 267.34 mph and the famous Thompson Trophy pylon race. They more than recouped their original investment.
The remarkable Gee Bees have withstood decades of controversy due to a number of high profile crashes in the '30s, including one that ended Bayles's life; however, these spectacular airplanes also came to represent the highest achievement of the American spirit during the darkest days of the Great Depression. Other notable Gee Bee racing aviators included James Doolittle of Tokyo Raiders fame and record-breaking female speedster Maud Tait, both of whom lived long and colorful lives after they retired from their thrilling Gee Bee racing days.
Specifications
1931 (original); 1996 (reproduction)
Wingspan — 26'6″
Cruise Speed — 230 mph
Top Speed — 270 mph
Gross Weight — 2,676 lbs
Original Engine — Pratt & Whitney R-985 (535 hp)
Current Engine — Pratt & Whitney R-985 (450 hp)
Kermit's Comments
I had flown this aircraft twice before deciding that I really wanted to know what had caused the original aircraft to crash. Having some experience with wing flutter, I suspected that this might have been the cause. A gentleman that I had previously hired to do flutter testing on my aerobatic aircraft was Leon Tolve. Leon came down with his equipment and, after several days of testing at Fantasy of Flight, he determined that the Gee Bee Z had a definite wing flutter problem above 240 mph. To make the aircraft safe to fly, a specific amount of balance weight will have to be attached to each aileron spar at a specified location. These external weights will be mounted protruding beneath the wings and will allow the aircraft to fly safely at speeds well over 300 mph. Solving one of aviation's mysteries, we now know what happened to Bayles and the Gee Bee Z, as he was estimated to have been going over 300 mph when the wing came off.