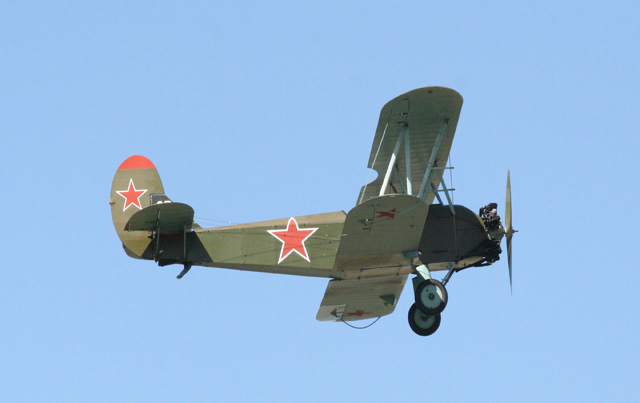 1954 Polikarpov PO-2
Built primarily of wood and fabric covered, the PO-2 was originally designed in the late 1920s as a training and light utility aircraft. By the time the Russians became involved in WWII, 13,000 had been built. They went on to be used for liaison, light attack, nuisance raider, and propaganda aircraft—complete with microphone and loudspeaker.
During the Great Patriotic War (World War II), PO-2s were used for close air support, bombing, and night harassment raids. These raids were emulated a decade later in the Korean War when North Koreans would fly low at night and drop hand-grenades on our troops. They were known as "Bedcheck Charlie."
The plane holds the record for the longest production run in history. Almost 40,000 were built between 1928 and 1959! After the war, Poland built Po-2s in large quantities. Used for training, agriculture, mail delivery, and limited service with Aeroflot, PO-2s were known as a safe and reliable aircraft.
Specifications
Year Built — 1954
Wingspan — 37'4″
Cruise Speed — 90 mph
Top Speed — 97 mph
Gross Weight — 1,962 lbs
Engine — Shvetsov M-11 (110 hp)
Kermit's Comments
During World War II, the U.S.S.R. formed a squadron composed completely of women, including pilots, officers, mechanics, and ground personnel. The Russian pilots that flew these aircraft performed various duties, including night harassment raids on the Germans.
Imagine flying one of these at night during a Russian winter, open-cockpit, low over enemy territory. On top of that, they would temporarily shut the engine down to avoid being heard, glide over enemy troops, and throw bombs and grenades out of the cockpit! Later, under-wing bomb racks and rockets were installed. The Germans named them Nachthexen, which translated, made them famous as the "Night Witches"!