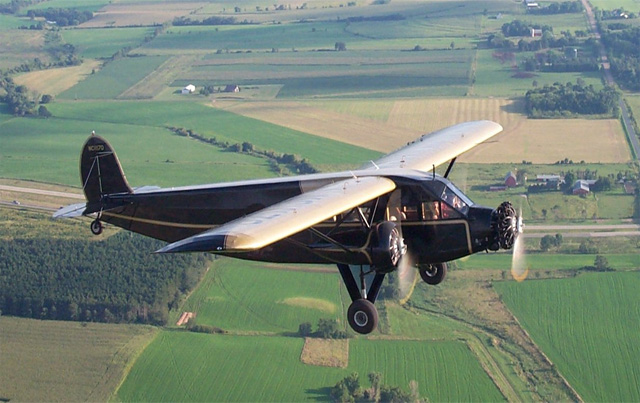 1931 Stinson Tri-Motor
The idea for the Stinson Airliner originated from the mind of financier E. L. Cord, who owned the Auburn Cord Duesenberg automobile company.
Cord also owned Lycoming, the engine manufacturer, as well as Century Airlines. This Stinson Model T Airliner was built in 1931 at the Stinson Aircraft Factory in Wayne, Michigan. The fuselage is welded steel tube construction, the wings are built of wood, and the entire structure is covered with fabric.
Many early airline companies used Stinson Tri-Motors, including Eastern, Delta, American, Braniff, TWA, and United. Cheaper to fly than many of its competitors, such as the Ford Tri-Motor, and competitively priced at less than $26,000, the Stinson Tri-Motor was the hottest thing on the market.
Sporting hot and cold water, toilet facilities, a cabin heater, and a two-way radio, the Tri-Motor could carry a pilot, mail, baggage, and 10 passengers.
Specifications
Year Built — 1931
Wingspan — 60′
Cruise Speed — 110 mph
Top Speed — 125 mph
Gross Weight — 8,600 lbs
Engine — Three Lycoming R-680 (225 hp)
Kermit's Comments
The only other high-wing Stinson Tri-Motor left in existence is owned by Greg Herrick, based in Minneapolis, Minnesota. When I flew this aircraft back from Oshkosh, Wisconsin, in August of 2000, it was only a short flight over to Minneapolis where we hooked up with Greg for a photo flight and got pictures of these last two rare aircraft flying together.
In 1930, a Century Airlines Stinson Tri-Motor flight from Chicago to St. Louis took 2 hours and 40 minutes and cost only $13.95! I think the food was good as well!