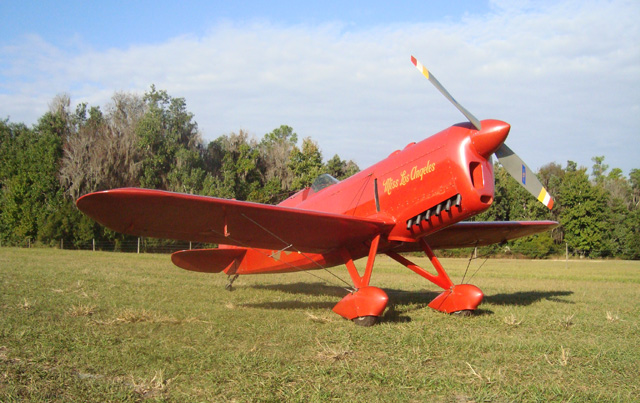 1934 Brown B-2 "Miss Los Angeles"
Following an adventurous early career as a pilot bomber for the Constitutionalists against Pancho Villa in Mexico, Lawrence W. Brown returned to the states and set about making a name for himself as designer of some of the fiercest competitive aircraft of the legendary Golden Age air races—truly the NASCAR of its day. In some instances, several of his designs would be competing against one another in a single race. His trademark is clearly evident on the B-2: absolutely minimal frontal area with a great deal of attention to streamlining. One of the interesting aspects of this design is that it incorporates flaps, which lowered the landing speed to 50-60 mph.
"Miss Los Angeles" made her sensational premiere at the 1934 National Air races fully decked out in her distinctive, gleaming scarlet paint with lettering and accents in gold leaf. Entered in the inaugural three-race Greve Trophy competition and flown by Roy Minor (formerly a stunt pilot in Hell's Angels), she took first place in speed with 213.257 mph. Shortly thereafter "Miss Los Angeles" turned up at the Thompson Trophy race as the only "new" competitor and flew smartly for a second place trophy.
Specifications
Year Built — 1934 (original); 1971 (replica)
Wingspan — 19'3″
Length — 19'10"
Top Speed — 213.257 mph (Speed recorded by Roy Minor)
Gross Weight — 1299 lbs
Original Engine — 6-cylinder supercharged Menasco C6S Buccaneer (300 hp)/li>
Current Engine — 6-cylinder Ranger (200 hp)
Kermit's Comments
This replica was built by Bill Turner, renowned replicator of Golden Age racers, and represents "Missy" in my illustrated children's book All of Life is a School.