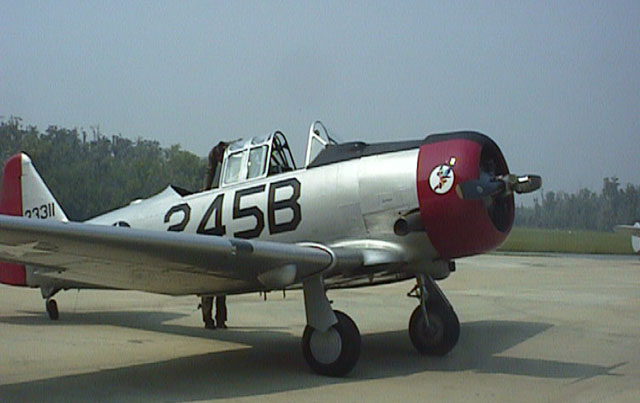 1944 North American AT-6
The AT-6 was built originally to compete in the 1937 U. S. Army Air Corps as a basic combat aircraft. 180 aircraft were ordered for the U.S.A.A.C., and the British Royal Air Force ordered 400. Experience showed that it was a mediocre combat aircraft but an excellent trainer, so it was reclassified as an Advanced Trainer. Nicknamed the Texan, it trained most of the Allied fighter pilots of World War II and went on to become arguably the best fighter training aircraft of all time.
Aircraft ordered by the Navy were designated as SNJs, and many aircraft were built under license in Canada as Harvards. Because of its reputation as a great training aircraft, many continued to be used in air forces around the world. Spain and South Africa were the last countries to operate them and did so well into the 1980s. Due to the rarity of original Japanese aircraft, the AT-6 (sometimes shortened to "T-6") is the plane of choice for moviemakers making World War II films such as Tora! Tora! Tora! and Pearl Harbor. They have been modified to become anything from Zero fighters to Kate torpedo bombers.
Specifications
Year Built — 1944
Wingspan — 42'1″
Cruise Speed — 160 mph
Top Speed — 208 mph
Gross Weight — 5,300 lbs
Engine — Pratt & Whitney R-1340 (600 hp)
Armament — One .30 caliber machine gun in the nose, Two .30 caliber machine guns under-wing
Kermit's Comments
This D model AT-6 has a swivel-seat in the rear cockpit. With the seat facing forward it can be used for flight training with the instructor sitting in the rear. With a pilot in the front flying, the rear seat can be turned around to face backwards allowing it to be used for gunnery training with a single .30 caliber machine gun that could be stowed into the rear fuselage when not in use. Because of the rear swivel-seat and the fact that the rear canopy slides completely forward, the unobstructed view makes it a great camera ship.
This aircraft is painted in the colors of the Womens Airforce Service Pilots (WASP), who trained in Sweetwater, Texas. Their mascot on the cowling was designed by the Disney Company and called "Fifinella."