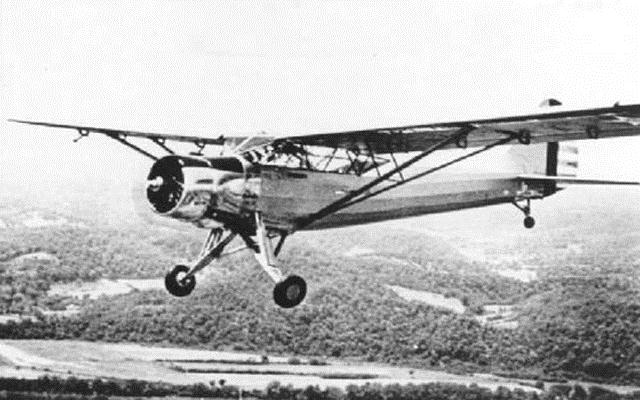 1941 Stinson Vultee L-1E
The Stinson L-1 Vigilant was a liaison aircraft from WWII. Equipped with full-span automatic slats on the leading edge of the wings and pilot-operated slotted flaps on the trailing edge, Vigilants were well suited for operations from short fields.
Due to its versatility, the Vigilant was used for a variety of missions both in the U.S. and overseas during WW II, including towing training gliders, artillery spotting, liaison duty, emergency rescue, transporting supplies, special espionage missions behind Japanese lines, and even for dropping light bombs. Some Vigilants were converted as ambulance aircraft, sometimes fitted with skis or with floats for water take-offs and landings.
The history of Fantasy of Flight's L-1E is interesting. After delivery to the Army Air Corps on August 28, 1941, it first served with 112th Observation Squadron at Ft Bragg, North Carolina. It continued in service mainly on the East Coast including Dover, Delaware; Langley Field, Virginia; and Fort Dix. In December of 1943, it was transferred to the 11th Air Force in Alaska, where it saw extensive use as a rescue aircraft. In September of 1945, it was stricken from Air Force inventory and sold as surplus in 1947 to the famous movie pilot Paul Mantz. Mantz converted it to a camera plane, and it was used for 30 years in motion picture projects, including The Great Waldo Pepper and Disney's Boatniks. It also appeared in a 1977 episode of Starsky and Hutch, its last showbiz job.
Specifications
Year Built — 1941
Length — 34'3″
Wingspan — 50'11"
Cruise Speed — 108 mph
Top Speed — 122 mph
Gross Weight — 3,400 lbs
Current Engine — Lycoming R6-80-8 (225 hp)
Engine — Lycoming R-680s (295 hp)
Kermit's Comments
In 1981, I purchased this aircraft as part of the Movieland of the Air Collection. It flew it back to Florida and was used to tow banners to promote the museum. In 1992, it was damaged during Hurricane Andrew and the decision was made to completely restore the aircraft. The Stinson L-1 was the equivalent of the German Fieseler Storch. It will be interesting to see which aircraft can actually fly the slowest!