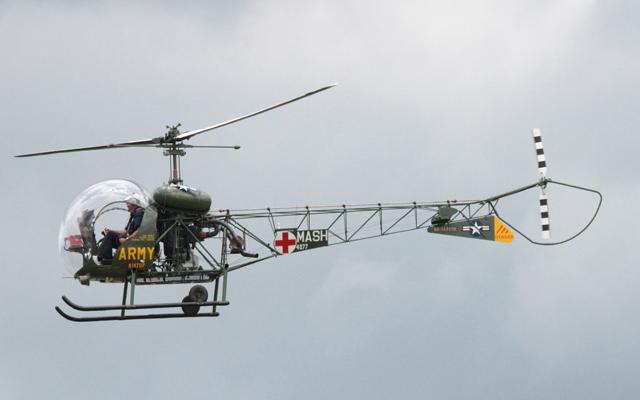 1954 Bell 47G
Designed at the end of World War II, the Bell 47 is known to most people as the helicopter in the M*A*S*H TV series.
It was successfully used in Korea for behind-the-lines support and for evacuation of wounded to Medevac units. The integrated strategy of deploying MASH units close to the front lines and the widespread use of helicopters for Medevac dramatically reduced combat mortality rates compared to those in WWII.
While only 400 Bell 47s were built for the U.S. Army and Navy, over 5000 were built between the late '40s and 1974. Today many Bell 47s still fly in the hands of private pilots and aircraft collectors. With its distinctive Plexiglas bubble cockpit, it is one of the most recognized and classic looking helicopters of all time.
Because of all the additional spares that were made to support the Bell 47, there are now more Bell 47s licensed and flying than were ever built by the Bell factory!
Specifications
Year Built — 1954
Rotor Diameter — 35'1″
Speed — 90 mph
Gross Weight — 2,350 lbs
Engine Type — Franklin (200 hp)
Kermit's Comments
I received my helicopter rating while in Miami, flying a Hughes 300 in the mid-eighties. I felt it was one of the most challenging and fun things to learn in my entire flying career. One of the most unique and memorable things I ever did with this Bell 47 was to fly it down to Key West and use it as the centerpiece for a float in the annual Fantasy Fest Parade during Halloween. The theme that year was "TV Jeebies," and our float represented the M*A*S*H television series. Fantasy of Flight friends and employees came down for the event, where everyone represented characters from Hawkeye to Hot Lips. We were fortunate to win one of 13 trophies given out amongst 67 floats. I dressed up as a nurse and have subsequently decided to give up any aspirations to run for public office!