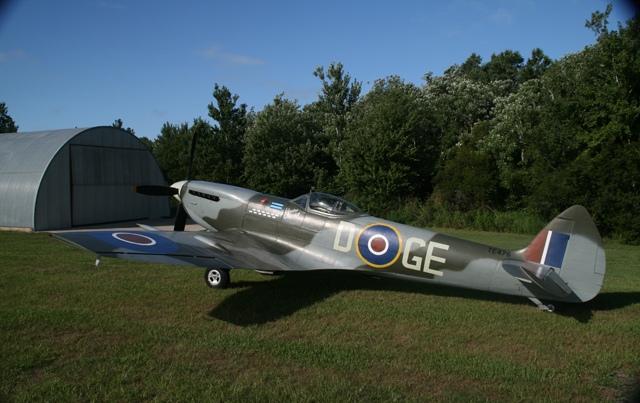 1945 Supermarine Spitfire Mk 16
The Spitfire was the brainchild of designer Reginald Mitchell and evolved from his experience with early Supermarine seaplane racers.
The racers went on to triumph at three prestigious races, ultimately winning the Schneider Cup Trophy for Great Britain in 1933.
Based on experience with the racing aircraft, Supermarine initiated the development of a fighter in 1935. This aircraft entered World War II in 1939 as the Spitfire. With its elegant elliptical wing and great performance, it achieved legendary status during the Battle of Britain of 1940.
As the war progressed and more performance was needed, the Spitfire evolved with bigger engines and minor refinements. The Mk 16 was the first model to be built with the low-back canopy for improved visibility and clipped wings for increased roll rate.
Spitfires served in all theatres of the war, and were flown by every Allied country, including the United States. A total of 20,334 Spitfires were built, making it one of the most widely produced fighters ever.
Specifications
Year Built — 1945
Wingspan — 32'8″
Cruise Speed — 280 mph
Top Speed — 408 mph
Gross Weight — 7,500 lbs
Engine — Packard built Rolls Royce Merlin 1650-7 (1,500 hp)
Armament — Two 20 mm Hispano cannons
Two .50 caliber Browning machine guns
1,000 lbs of bombs or rockets
Kermit's Comments
Over a six-year period, the aircraft was slowly restored using almost 90% of its original aircraft skins. I insisted that the aircraft be restored to as original condition as possible. This was unheard of in England at the time. Guns, cannons, gunsight, and original working radios are all installed, making this the most originally restored Spitfire in the world! Its post-restoration flight occurred in June of 1995. Soon after, it was shipped to Florida where it was re-assembled to start flying at Fantasy of Flight.
British pilots were not allowed to paint personal artwork on their aircraft. This paint scheme is in the colors of the highest scoring Belgian ace, Raymond Lallemant.