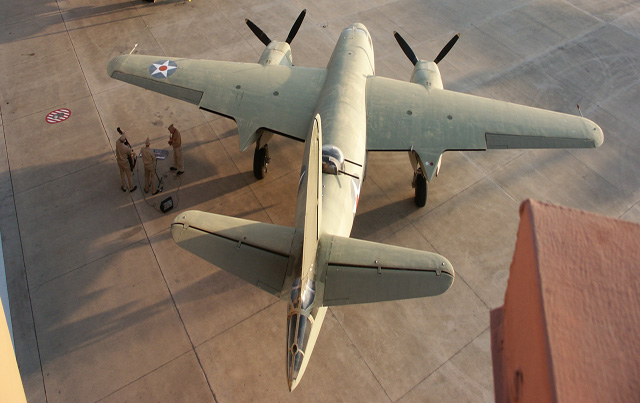 1940 Martin B-26 Marauder
The B-26 Marauder was designed to meet the U.S. Army Air Corps demand for a high-speed medium bomber.
Martin's proposal was considered to be so far in advance of other proposals that the company was awarded an "off the drawing board" contract for 201 aircraft in 1939, and the first production B-26 flew by year's end.
Testing confirmed that performance expectations had been achieved but at the expense of low-speed handling characteristics. Training accidents multiplied, and an investigation was set up to consider whether or not to stop production. It was decided to introduce modifications that would improve its slow-speed handling qualities.
Later aircraft were built with longer wings, a lengthened fuselage, and larger vertical fin and rudder. B-26s saw combat in the South Pacific as well as in North Africa. Over 5,000 Marauders were built, and it went on to have the lowest combat attrition rate of any American aircraft in the 9th Air Force.
Specifications
Year Built — 1940
Wingspan — 65′
Cruise Speed — 210 mph
Top Speed — 315 mph
Gross Weight — 27,200 lbs
Engine Type — Two Pratt & Whitney R-2800 (1850 hp)
Current Engine — Two Pratt & Whitney R-2800 (2000 hp)
Kermit's Comments
Only six B-26s still exist, and this is the only one capable of flight. Because of its small wing area, the B-26 was nicknamed the "Widowmaker." MacDill Air Force Base in Tampa was the main training base for B-26 crews during the War. As a result of a short series of training accidents after take-off, the undeserved phrase "One a Day in Tampa Bay" came about.
In 1998, I flew this aircraft into MacDill for their annual airshow and back to Fantasy of Flight without incident. This was the last B-26 to ever leave a MacDill runway, so hopefully the curse has been broken.