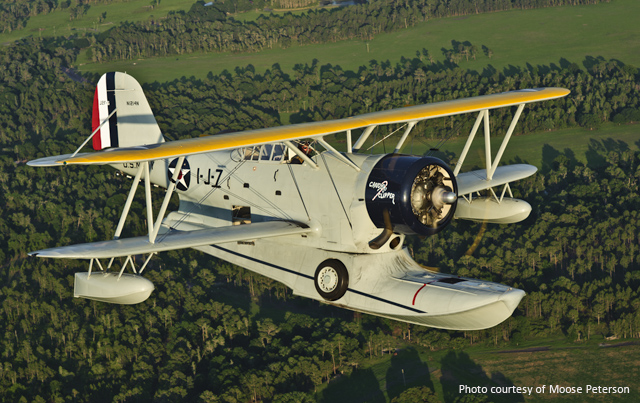 1945 Grumman Duck
The Duck was the first in a long line of seaplanes built by Grumman Aircraft. It was based on an earlier amphibian, designed and built by Grover Loening.
The first test flight of a Duck occurred in 1933, and it continued to be built through the last year of WWII. It was designed as a carrier-based utility transport and used for observation, coastal patrol, photography, and rescue. The pilot flies from the front cockpit while a passenger/gunner would sit in the rear. There is a "downstairs" for two additional passengers or downed pilots and a "hatch" in the bottom of the hull that can be opened in flight and used for taking aerial pictures.
Ducks served with the U.S. Navy, Marines, and Coast Guard both before and during WW II. 632 of all types were built. Several have been stars, used in the movies like Murphy's War and the TV series Baa Baa Black Sheep.
Late in the war, Grumman became more focused on building its Hellcat fighters and licensed production of the Duck to Columbia Aircraft, in Long Island, NY. This Duck was manufactured by Columbia and built during the last year of the war. We painted it in the colors of a famous Duck, the "Candy Clipper," which served in the Philippines on Bataan. The aircraft, along with two other, had sunk and were left by the Navy. A local Army Air Corps P-40 base floated the one aircraft and rebuilt it. It made four flights to bring in badly needed medical supplies for the troops. Some candy was thrown in for good measure and that's how it got its name. The "Candy Clipper" was the last aircraft to leave Bataan during the siege of the island in 1942.
On display courtesy of the World's Greatest Aircraft Collection
Specifications
Year Built — 1945
Wingspan — 39′
Cruise Speed — 140 mph
Top Speed — 190 mph
Gross Weight — 7200 lbs
Engine — Wright R-1820 (1200 hp)
Armament — One rear-mounted .30 machine gun. Two bombs/depth charges on under-wing racks
Kermit's Comments
I have been the largest owner of Ducks since the US Navy! This was one of first collectable aircraft I purchased in 1983 and is one of my favorites. I later donated it to the Weeks Air Museum. A second was acquired in Lake Wales, Florida, from Sam Poole and is currently under a slow rebuild in Wichita, KS. A third was included in the Tallmantz Collection that I purchased in 1985, and was traded to the US Air Force Museum where it is currently on display. A fourth was purchased from the San Diego Air and Space Museum in 2001 and traded for the Grumman F3-F that is displayed at Fantasy of Flight.
I also had the opportunity to take this aircraft several years ago to a powerboat race over at Cypress Gardens. As a joke, I commented we should use it to tow some water skiers in the show. I was immediately enlisted as a show pilot and pulled two water skiers off the beach right in front of the crowds. After several circuits (never leaving the water) one of the skiers kicked off his skis and skied barefoot past show center!