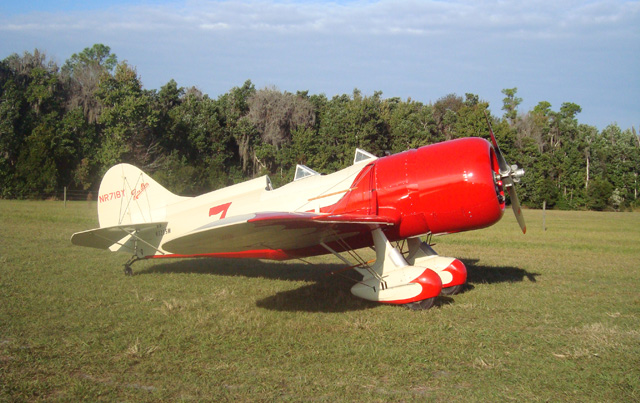 1931 Gee Bee Y Sportster
The Gee Bee Y was slightly larger than earlier Gee Bee racers and was distinctive for having two seats and the front windshield could be removed, with the cockpit faired over for racing.
Like other "Sportsters," it was a wire-braced low-wing monoplane of conventional construction, with open cockpits and fixed undercarriage. Only two Y-models were built by the Granville brothers, who originally intended them to be used as company planes and support aircraft for their "R" series racers. However, when the first one fell into the hands of speedster Maud Tait, daughter of one of the Granvilles' earliest investors, it became a racer in its own right—winning the Cleveland Pneumatic Aero Trophy Race for her.
The Gee Bee Y was also a favorite for another fearless female pilot, Florence Klingensmith, who flew it with a Wright Whirlwind engine of double the original horsepower to second place in the Women's Free-for-All at the 1933 Chicago International Races. Once this aircraft entered the race circuit, it rarely finished outside the money. A noted Gee Bee authority claims the Model Ys won more races and made more money than the better known, purpose built Gee Bee racers! Neither of the two original aircraft exists.
Specifications
Year Built — 1931 (original); 2005 (replica)
Wingspan — 30'0″
Length — 21'0″
Cruise Speed — 135 mph
Top Speed — 160 mph; Maud Tait speed record — 187 mph
Gross Weight — 1400 lbs
Original Engine — Lycoming R-680 (215 hp)
Current Engine — Later 300 hp version
Kermit's Comments
After writing my illustrated children's book All of Life is a School to develop characters for Fantasy of Flight, I realized I had four of the ten aircraft portrayed in the book and began to pay attention to collecting the others. When this aircraft became available I acquired it in a trade from a Donald Mains in New England, who had constructed and test-flown it.
This type of aircraft is represented by my character "Puff," named after the famous Powder Puff Derby which was a women-only cross-country race that began in 1929. We intend to further modify this aircraft to include the "bump" cowl, as one of the original airplanes had and to add a small wheel pant fairing for the tail wheel. While not strictly original, one day she may sport a pretty pink nose like Puff!