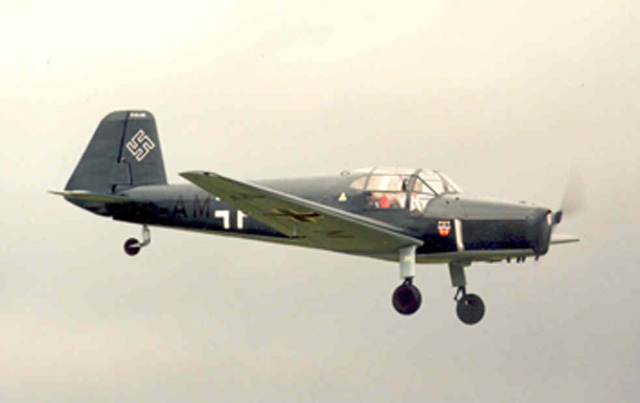 1939 Bücker Bestmann
Last of the Bücker designs, the Bestmann appeared in 1939 as a general-purpose aircraft that was designed to be used as a trainer for the German Luftwaffe during World War II.
Despite its intended use for training purposes, it was primarily employed for utility and liaison, similar to its contemporary, the four-seat Me-108 Taifun. Common uses for the airplane would have included virtually anything that might come up, such as glider tug, light transport, getting mail, carrying supplies, or visits to local airfields. Both Czechoslovakia and Sweden built them under license during and after the war, and post-war production continued in the Netherlands, Sweden, Czechoslovakia, and Egypt.
This aircraft was built up from a Czech-built Zlin aircraft by Dave Fenton in England. The all-wood wing was built using the original fittings but all new wood. Kermit purchased the aircraft in 1997 and had it disassembled and shipped over.
A total of only 32 examples remain of the over 4,000 originally built. It is thought that this is one of only two original ones flying in the world today and is the most accurate.
Specifications
Year Built — 1939
Wingspan — 36'4″
Top Speed — 133 mph
Gross Weight — 1,650 lbs
Engine — Hirth 4-cylinder (105 hp)
Kermit's Comments
The innovative side-by-side seating greatly improved training and influenced post war primary trainer design at Cessna. It is a great flying little airplane.