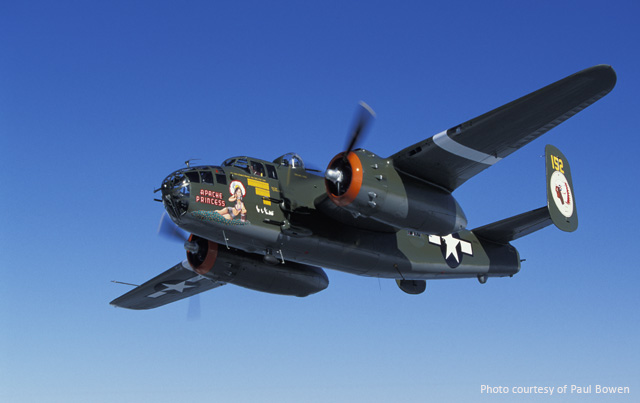 1943 North American B-25 J Mitchell
The B-25 Mitchell bomber was named after General Billy Mitchell who, in the 1920s, was court-martialed for insubordination, accused of fighting his own war within the armed services.
Mitchell was certain the future of warfare lay in aviation. He pushed hard for a strong and effective Air Force against military cutbacks and a public tired of war. In the early '20s, Mitchell predicted that one day the country would be caught sleeping by an enemy that would attack U.S. territory by air. On Sunday, December 7, 1941, Mitchell's prediction came true at Pearl Harbor.
President Roosevelt, wanting to retaliate, called for a plan to bomb the Japanese mainland. A plan was devised to launch bombers from the aircraft carrier Hornet, 400 miles off the coast of Japan. When the fleet was spotted by the enemy 200 miles short of their planned take-off point, the bombers launched, knowing full well that they did not have the range to complete the mission.
Col. Jimmy Doolittle led the 16 bombers and 80 crewmen off the carrier. After successfully dropping their bombs, a fortunate tailwind helped the crews barely make it to the Chinese mainland. In the dark and deteriorating weather, the crews bailed out or ditched—one by one—as they ran out of fuel.
Specifications
Year Built — 1943
Wingspan — 67'6″
Cruise Speed — 185 mph
Top Speed — 293 mph
Gross Weight — 27,560 lbs
Engine Type — Two Pratt & Whitney R-2600 (1700 hp)
Kermit's Comments
I picked up the aircraft in May of 2001 and took the "Apache Princess" on its first outing to a Doolittle Raiders Reunion in Fresno, California. There, 15 out of the 26 living Raiders were honored when the "Apache Princess" got to fly for them in formation with a record fifteen B-25 bombers! Toward the end of the restoration, an aviation magazine had done a piece on its progress. A Lt. Col. Roman Ohnemus saw the article and called Aero Trader stating that the "Apache Princess" had been HIS aircraft in the South Pacific! The original aircraft had been assigned to him, and he was the one that had come up with the name and the original nose art. Breaking my standard tradition of striving for maximum authenticity, I took a bit of "artistic license" when I had the artist modify the face of the "Apache Princess" to portray my wife Teresa.