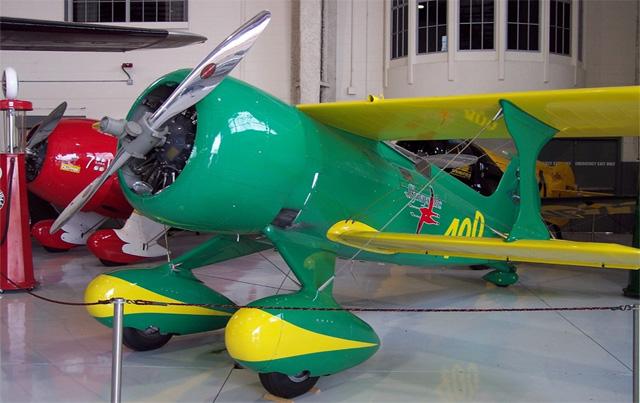 1931 Laird Super Solution
The Super Solution was an evolution of what Matty Laird had learned from competing in the 1930 National Air Races with his racer, the Laird Solution.
In just 6 weeks, it was designed and built for the 1931 Thompson closed-circuit pylon races at Cleveland. The race consisted of 10 laps around a 10-mile course and drew 60,000 spectators. It was also flown in the new cross-country Bendix race from Los Angeles to Cleveland.
Thirty-four year old Jimmy Doolittle was chosen as the pilot because of his successful background in racing and blind-flying. Eight aircraft entered the Bendix race, and Jimmy won by a commanding lead with quick stops in Albuquerque and Kansas City. After landing in Cleveland, Jimmy quickly fueled up and continued on to Newark, NJ, to set a new transcontinental record. His total trip time for the entire 2450-mile coast-to-coast flight was 11 hours and 16 minutes, averaging 217 mph and beating the old record by over an hour. The total prize included $17,500 for the Bendix Race and an additional $2,500 for setting a new coast-to-coast record. Not bad money considering this was during the Depression!
Prior to the 1932 races, the Super Solution was modified with landing gear that retracted vertically upward into the fuselage. Unfortunately, the gear wouldn't come down on its first flight and Jimmy was forced to belly it in. There was not enough time to repair it, and the Super Solution did not make the race. Jimmy was asked to fly the Gee Bee R-1 racer and, in it, won the 1932 Thompson race.
Specifications
Year Built — 1931
Wingspan — 21′
Top Speed — 256 mph
Gross Weight — 2,482 lbs
Engine — Pratt & Whitney R-985 (450 hp)
Kermit's Comments
Jim Moss of Washington state built this aircraft, and it is the only flying example of its kind. The only other Super Solution is on display at the EAA Museum in Oshkosh, WI, and is a non-flying reproduction.
Jim flew this aircraft down from Seattle and displayed it at the Sun 'n Fun Fly-In in Lakeland in 2004. After Sun 'n Fun, Jim brought it over to Fantasy of Flight to store it for awhile. It was a long way back home for Jim and it sure looked good sitting in this hangar, so we cut a deal!