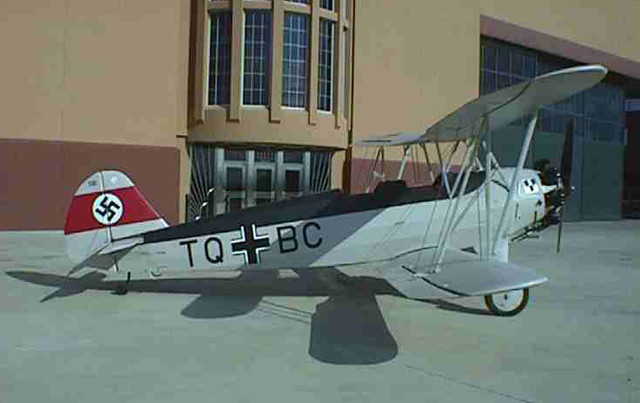 1937 Focke-Wulf Fw-44 Stieglitz
This Focke-Wulf type, called the Stieglitz, means "goldfinch" in English. This was a German primary trainer during World War II and the first aircraft designed by Kurt Tank, who later went on to design the famous Focke-Wulf Fw-190 fighter.
Introduced in 1932, this aircraft had great performance and speed for its type. It was a favorite of Ernst Udet, famous stunt pilot and World War I ace, who was credited with 62 kills. Udet demonstrated the Stieglitz at airshows and later became Chief Inspector of Design as a General in the Luftwaffe.
Built in great numbers from 1932 until 1944, it was exported worldwide because of its great performance and promotion by Udet.
Today nearly 50 examples survive and are on display at various museums and in private collections.
Specifications
Year Built — 1937
Wingspan — 32'4″
Cruise Speed — 95 mph
Gross Weight — 1,892 lbs
Engine — Siemens (160 hp)
Kermit's Comments
This aircraft was acquired from Argentina in 1984. It had not flown for a number of years and was in need of a complete restoration. I sent it to England, where Personal Plane Services rebuilt it to original standards in the colors of a 1935 Luftwaffe training school aircraft.