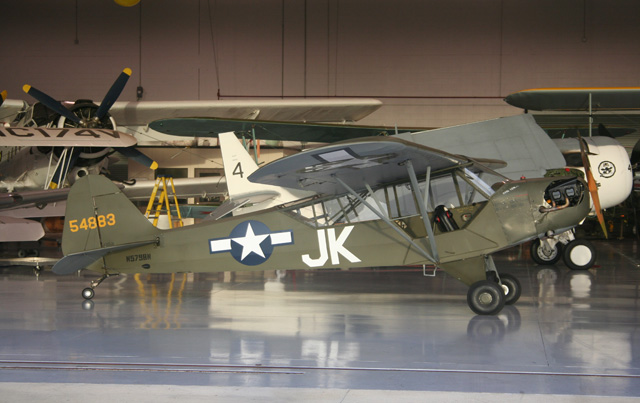 1945 Piper L-4 Grasshopper
The Piper L-4 Grasshopper was a military version of the famous Piper Cub of the 1930s. It was designated in the L category for liaison aircraft. Stinson, Taylorcraft, Aeronca, and Piper were light plane manufacturers that built military versions of their civilian counterparts during World War II, designated L-1s through L-5s. After initial evaluations, the first L-4s were produced in 1941. Different models were manufactured, and by the end of World War II, over 5000 had been built. This particular aircraft is a J model and, along with the H model, were the most numerous produced. They differed from other models mainly in that they had a manual controllable pitch propeller.
The L-4 was used for scouting, mail delivery, and moving personnel behind the lines. With the pilot flying from the front, the observer could sit in the rear facing forwards or backwards. With a table for maps, writing, and radios, he could look rearward out the extended windows and call in his observations. One enterprising Grasshopper pilot even attached several bazookas to the wing struts for use in ground support.
In 1943 some L-4s were used with a Brodie cable and harness, enabling the aircraft to "land" after catching a cable slung between several poles, its wheels never touching the ground!
Specifications
Year Built — 1945
Wingspan — 35'2″
Cruise Speed — 80 mph
Top Speed — 92 mph
Gross Weight — 1,240 lbs
Engine — Continental A65 (65 hp)
Kermit's Comments
When my sister mentioned to me she wanted to learn to fly, I told her that she "had" to learn in a Piper Cub. As I had been collecting World War II aircraft, I modified my statement and found this military L-4 for sale in California, which she purchased. My sister was in college at the time, and we scheduled for her to fly back in her "new" airplane over her one-week fall break. Because of the headwinds, by the time they got to Texas, my sister was out of vacation and had to get back for school. The trip had taken 11 days, and "Miss Leslie" logged 43 hours of flying time!
My sister soon became more interested in cars. I had learned that cars did not have the appeal for me that airplanes did, so I traded her a Jaguar XKE that I had for the L-4. She decided she would much rather have a fast car than a slow airplane!